TV-DERIVED CHARACTER ADAPTATIONS
CHUCK BARTOWSKI



Val	CHA	Cost	Roll	Notes


12	STR	2	11-	Lift 132 kg; 2d6 HTH Damage [1]
12	DEX	6	11-	OCV:  4/DCV:  4
12	CON	4	11-
10	BODY	0	11-
13	INT	3	12-	PER Roll 12-
11	EGO	2	11-	ECV:  4
10	PRE	0	11-	PRE Attack:  2d6
14	COM	2	12-

2	PD	0		Total:  2 PD (0 rPD)
2	ED	0		Total:  2 ED (0 rED)
2	SPD	0		Phases:  6, 12
4	REC	0
30	END	3
25	STUN	3		

Total Characteristic Cost:  25





Movement:

	Running:	6"/12"
		Leaping:	2"/4"
		Swimming:	2"/4"



Cost	Powers & Skills


19	

Intersect:

  Universal Scholar 16-; Only with Government Secrets (-1/4)

	

Perks


15	

John Casey:

  Follower
15	

Sarah Walker:

  Follower
1	Fringe Benefit:  Nerd Herd Membership

	

Talents


5	Eidetic Memory

	

Skills


3	Computer Programming (Personal Computers, Local Networks) 12-
1	Conversation 8-
5	Cramming 
1	Cryptography 8-
3	Electronics 12-
3	KS: Buy More Policies 12-
2	Systems Operation (Cellular and Digital) 12-
2	TF:  Common Motorized Ground Vehicles



Total Powers & Skill Cost:  75
Total Cost:  100

75+	Disadvantages


15	Dependent NPC:  Ellie (Sister) 8- (Normal; Unaware of character's adventuring career/Secret ID)
20	Dependent NPC:  Morgan Grimes 11- (Normal; Unaware of character's adventuring career/Secret ID)
15	Hunted:  Fulcrum 8- (Mo Pow, Harshly Punish)
0	Normal Characteristic Maxima No Age Restriction
15	Psychological Limitation:  In Love with Sarah (Common, Strong)
10	Psychological Limitation:  Oblivious (Common, Moderate)


150	Total Disadvantage Points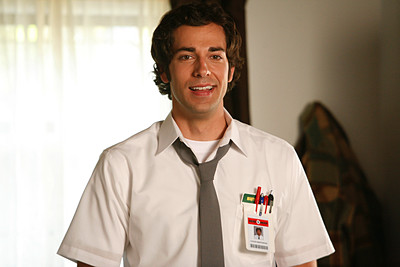 Background/History: Chuck Bartowski is an affable, anxious Nerd Herd associate at a Buy More (a parody of Geek Squad and Best Buy). In the Pilot episode, Chuck accidentally downloads the entirety of CIA and NSA secrets into his brain. The government enlists Chuck to help protect national security after it is discovered that Chuck's ability to 'flash' all of the secret information in his brain. Chuck is protected by Sarah Walker (Yvonne Strahovski), a CIA agent, and Major John Casey (Adam Baldwin) of the NSA.
The TV series is based on the weekly missions that Chuck, Sarah and Casey engage in, as well as Chuck's relationships with Morgan Grimes (his best friend and co-worker), his fellow Nerd Herders and co-workers, his sister's boyfriend "Captain Awesome", and his sister Ellie.
Chuck's romantic interests include CIA agent Sarah Walker (who is posing undercover as Chuck's girlfriend) and Lou (Rachel Bilson), the owner/manager of a sandwich shop both had come into the Buy More to have their cell phones fixed.
---
Return to TV-Derived Character Adaptations.