MOVIE-DERIVED CHARACTER ADAPTATIONS
ALICE



Val	Char	Cost	Roll	Notes


15	STR	5	12-	Lift 200 kg; 3d6 HTH Damage
17	DEX	21	12-	OCV:  6/DCV:  6
16	CON	12	12-
12	BODY	4	11-
17	INT	7	12-	PER Roll 12-
14	EGO	8	12-	ECV:  5
15	PRE	5	12-	PRE Attack:	3d6
18	COM	4	13-

6	PD	3		Total:  6 PD (0 rPD)
5	ED	2		Total:  5 ED (0 rED)
3	SPD	3		Phases:  4, 8, 12
6	REC	0
32	END	0
28	STUN	0	

Total Characteristic Cost:  74

Movement:

	Running:	6"/12"
		Leaping:	3"/6"
		Swimming:	2"/4"



Cost	Powers	END
	Martial Arts:

	

HTH Fighting Techniques


	

Maneuver		OCV	DCV	Notes


4	Killing Strike		-2	+0	HKA 1d6 +1
3	Legsweep		+2	-1	4d6 Strike, Target Falls
4	Martial Block		+2	+2	Block, Abort
4	Martial Disarm		-1	+1	Disarm; 25 STR to Disarm
4	Martial Dodge		--	+5	Dodge, Affects All Attacks, Abort
4	Martial Strike		+0	+2	5d6 Strike
3	Martial Throw		+0	+1	3d6 +v/5, Target Falls
5	Offensive Strike	-2	+1	7d6 Strike

	

Perks


5	

Umbrella Corp Head of Hive Security:

 Access

	

Talents


12	

Combat Training:

  Combat Luck (6 PD/6 ED)

	

Skills


16	+2 with All Combat
	
3	Acrobatics 12-
3	Breakfall 12-
3	Bureaucratics 12-
3	Combat Driving 12-
3	Conversation 12-
5	CuK: Umbrella Corp Security Protocols 14-
3	Defense Maneuver I 
3	Paramedics 12-
3	Persuasion 12-
3	Tactics 12-
10	Two-Weapon Fighting (HTH) 
10	Two-Weapon Fighting (Ranged) 
7	WF:	Common Martial Arts Melee Weapons, Common Melee Weapons, Small Arms, Off Hand



Total Powers & Skill Cost:	123
Total Cost:	197

75+	Disadvantages


25	Hunted:	Umbrella Corp. 14- (Mo Pow, NCI, PC has a Public ID or is otherwise very easy to find, Watching)
0	Normal Characteristic Maxima
97	

Experience Points

Total Disadvantage Points:	197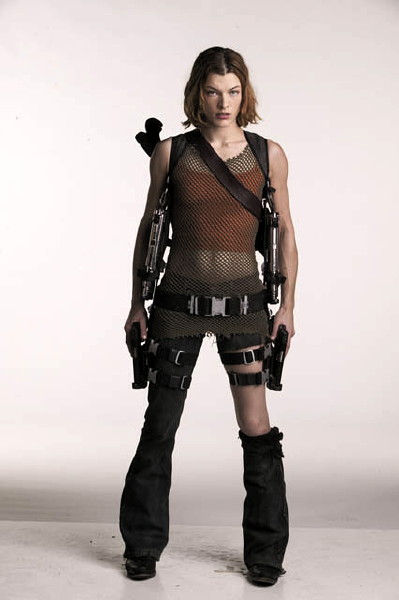 This is the first write up I've done of Alice from Resident Evil.
I don't have equipment listed, as everything she used in the movie, she just sort of picked up on the way.
Complete list of firearms from the movie:
AG36 Grenade Launcher
Beretta 92FS Inox
Heckler & Koch G36K
Heckler & Koch MP5K
Hi-Standard K-120
Smith & Wesson 5906
Springfield Armoury Mil-Spec M1911A1
Taurus Model 431
Walther P99
(Alice created by Paul Anderson. Character sheet by Jeff Berden [spectreone@hotmail.com])
---
Return to Movie-Derived Character Adaptations.