CREATURES FROM ADVANCED DUNGEONS AND DRAGONS
3E BEHOLDER



Val	CHA	Cost	Roll	Notes


10	STR	0	11-	Lift 100 kg; 2d6 HTH Damage [1]
14	DEX	8	12-
18	CON	8	13-
18	INT	8	13-	PER Roll 17-
15	EGO	5	12-
15	PRE	5	12-	PRE Attack:  3d6

8	OCV	25
6	DCV	15
4	OMCV	3
4	DMCV	3
4	SPD	20		Phases:  3, 6, 9, 12

20	PD	0		Total:  20 PD (20 rPD)
20	ED	0		Total:  20 ED (20 rED)
10	REC	6
70	END	10
30	BODY	20
70	STUN	25		

Total Characteristic Cost:  146





Movement:

	Running:  1m/2m 
		Flight:  8m/16m



Cost    Powers & Skills


225	

Eye Rays:

  Multipower, 450-point reserve, all slots Individual Slots Can Be Disabled With Called Shots 
	(all slots are -8 OCV, PD 6, ED 6, BODY 1; -½), Limited Arc Of Fire (only three slots can strike targets 
	in any particular 90-degree arc (up, forward, backward, left, right, down) each Turn; -¼), Limited 
	Range (50m; -¼)	
3f	1)  

Charm Monster:

  Mind Control 9d6 (Human, Alien, Animal and Machine classes of minds), Alternate Combat 
	Value (uses OCV against DMCV; +¼); Individual Slots Can Be Disabled With Called Shots (all slots are -8 OCV, 
	PD 6, ED 6, BODY 1; -½), Beam (-¼), Normal Range (-¼), Limited Arc Of Fire (only three slots can strike targets
	in any particular 90-degree arc (up, forward, backward, left, right, down) each Turn; -¼), Limited 
	Range (50m; -¼), END 7
3f	2)  

Charm Person:

  Mind Control 11d6 (Human class of minds), Alternate Combat Value (uses OCV against DMCV; +¼);
	Individual Slots Can Be Disabled With Called Shots (all slots are -8 OCV, PD 6, ED 6, BODY 1; -½), Beam (-¼), 
	Normal Range (-¼), Limited Arc Of Fire (only three slots can strike targets in any particular 90-degree arc 
	(up, forward, backward, left, right, down) each Turn; -¼), Limited Range (50m; -¼), END 7
3f	3)  

Disintegrate:

  Drain BODY 2 ½d6, Reduced Endurance (½ END; +¼), Damage Over Time, Lock out 
	(cannot be applied multiple times) (4 damage increments, damage occurs every three Segments, +1 ¾); 
	Individual Slots Can Be Disabled With Called Shots (all slots are -8 OCV, PD 6, ED 6, BODY 1; -½), 
	Beam (-¼), Limited Arc Of Fire (only three slots can strike targets in any particular 90-degree arc 
	(up, forward, backward, left, right, down) each Turn; -¼), Limited Range (50m; -¼), END 3
2f	4)  

Fear:

  Mind Control 9d6 (Human and Animal classes of minds), Telepathic (+¼), Reduced Endurance (½ END; +¼);
	Set Effect ("Move your normal movement rate away from the beholder by the safest route possible.""; -1), 
	Individual Slots Can Be Disabled With Called Shots (all slots are -8 OCV, PD 6, ED 6, BODY 1; -½), 
	Normal Range (-¼), Beam (-¼), Limited Arc Of Fire (only three slots can strike targets in any particular
	90-degree arc (up, forward, backward, left, right, down) each Turn; -¼), Limited Range (50m; -¼), END 3
3f	5)  

Finger Of Death:

  RKA 1d6, Reduced Endurance (½ END; +¼), Attack Versus Alternate Defense (Power Defense; +1), 
	Does BODY (+1), Damage Over Time, Lock out (cannot be applied multiple times) (4 damage increments, 
	damage occurs every three Segments, +1 ¾); Individual Slots Can Be Disabled With Called Shots (all slots 
	are -8 OCV, PD 6, ED 6, BODY 1; -½), Beam (-¼), Limited Arc Of Fire (only three slots can strike targets 
	in any particular 90-degree arc (up, forward, backward, left, right, down) each Turn; -¼), Limited Range (50m; -¼), END 3
3f	6)  

Flesh To Stone:

  Severe Transform 1d6 (target into statue of target, reversed by stone to flesh or dispelling), 
	Reduced Endurance (½ END; +¼), Partial Transform (+½), Damage Over Time, Lock out (cannot be applied multiple times) 
	(50 damage increments, damage occurs every Segment, +3 ¼); Individual Slots Can Be Disabled With Called Shots 
	(all slots are -8 OCV, PD 6, ED 6, BODY 1; -½), Beam (-¼), Limited Arc Of Fire (only three slots can strike 
	targets in any particular 90-degree arc (up, forward, backward, left, right, down) each Turn; -¼), Limited Range 
	(50m; -¼), END 3
3f	7)  

Inflict Moderate Wounds:

  Drain BODY 2d6, Reduced Endurance (½ END; +¼), Delayed Return Rate (points return at the 
	rate of 5 per Week; +2 ½); Individual Slots Can Be Disabled With Called Shots (all slots are -8 OCV, PD 6, ED 6, 
	BODY 1; -½), Beam (-¼), Limited Arc Of Fire (only three slots can strike targets in any particular 90-degree arc 
	(up, forward, backward, left, right, down) each Turn; -¼), Limited Range (50m; -¼), END 3
3f	8)  

Sleep:

  Blast 6 ½d6, Reduced Endurance (½ END; +¼), Attack Versus Alternate Defense (Life Support (Diminished Sleep); 
	All Or Nothing; +1); Individual Slots Can Be Disabled With Called Shots (all slots are -8 OCV, PD 6, ED 6, BODY 1; -½), 
	Beam (-¼), Limited Range (35m; -¼), No Knockback (-¼), Limited Arc Of Fire (only three slots can strike targets 
	in any particular 90-degree arc (up, forward, backward, left, right, down) each Turn; -¼), END 3
3f	9)  

Slow:

  Drain SPD 6d6, Reduced Endurance (½ END; +¼); Individual Slots Can Be Disabled With Called Shots 
	(all slots are -8 OCV, PD 6, ED 6, BODY 1; -½), Beam (-¼), Limited Arc Of Fire (only three slots can strike targets 
	in any particular 90-degree arc (up, forward, backward, left, right, down) each Turn; -¼), Limited Range (50m; -¼), END 3
2f	10) Telekinesis:  Telekinesis (13 STR), Fine Manipulation, Reduced Endurance (½ END; +¼); Individual Slots 
	Can Be Disabled With Called Shots (all slots are -8 OCV, PD 6, ED 6, BODY 1; -½), Beam (-¼), Limited Arc Of Fire 
	(only three slots can strike targets in any particular 90-degree arc (up, forward, backward, left, right, down) 
	each Turn; -¼), Limited Range (50m; -¼), END 1
	 	
300	

Anti-Magic Cone:

  Drain 10d6, Area Of Effect (50m Cone; +1), Expanded Effect (all Magic powers 
	simultaneously) (+4); Costs Endurance (to maintain; -½), No Range (-½), END 60
20	

Bite:

  HKA 1d6+1 (2d6 w/STR), END 2
76	

Rocky Hide:

  +18 PD, Hardened (+¼), Impenetrable (+¼), Resistant (+½) (Modifiers affect Base Characteristic) 
	

plus

 +18 ED, Hardened (+¼), Impenetrable (+¼), Resistant (+½) (Modifiers affect Base Characteristic)
16	

Alien Mind:

  Mental Defense (16 points total)
29	Naturally Buoyant:  Flight 8m, Position Shift, Persistent (+¼), Reduced Endurance (0 END; +½), No Gravity Penalty (+½)
12	

All-Around Vision:

  +4 PER with all Sense Groups
10	

All-Around Vision:

  Increased Arc Of Perception (360 Degrees) with Sight Group
5	

Darkvision:

  IR Perception (Sight Group)

	

Talents


4	

Improved Initiative:

  Lightning Reflexes (+4 DEX to act first with All Actions)

	

Skills


24	+8 OCV with Multiple Attacks
6	PSLs:  +2 vs. Multiple Attack with DCV penalties

0	Analyze:  Animal 8-
0	AK: Home Territory 11-
7	Concealment 15-
5	Defensive Attack ; Ranged Multiple Attacks Only (-1)
5	KS: Arcane And Occult Lore 15-
4	Language:  Common (completely fluent; literate)
0	Language:  Native (idiomatic; literate)
0	PS: Beholder Abilities 11-
5	Rapid Attack ; Ranged Attacks Only (-1)
0	Shadowing 8-
7	Stealth 14-
0	Survival (Underground) 8-
3	Tracking 13-



Total Powers & Skill Cost:  791
Total Cost:  937

175+	Matching Complications (50)


20	Negative Reputation:  Terrible Monster, Very Frequently (Extreme)
10	Physical Complication:  Large (+2 OCV to be hit, +2 to PER Rolls to perceive) (Infrequently; Slightly Impairing)
20	Physical Complication:  No Manipulatory Appendages (All the Time; Barely Impairing)
20	Psychological Complication:  Egotistical And Tyrannical (Common; Total)



Total Complications Points:  50
Experience Points:  762



Background/History: Beholders are the stuff of nightmares. These creatures, also called the "spheres of many eyes" or "eye tyrants," are deadly creatures.
Personality/Motivation: It is a rapacious and tyrannical creature that seeks to exact tribute from anything weaker than itself, and often attacks adventurers simply to acquire their wealth.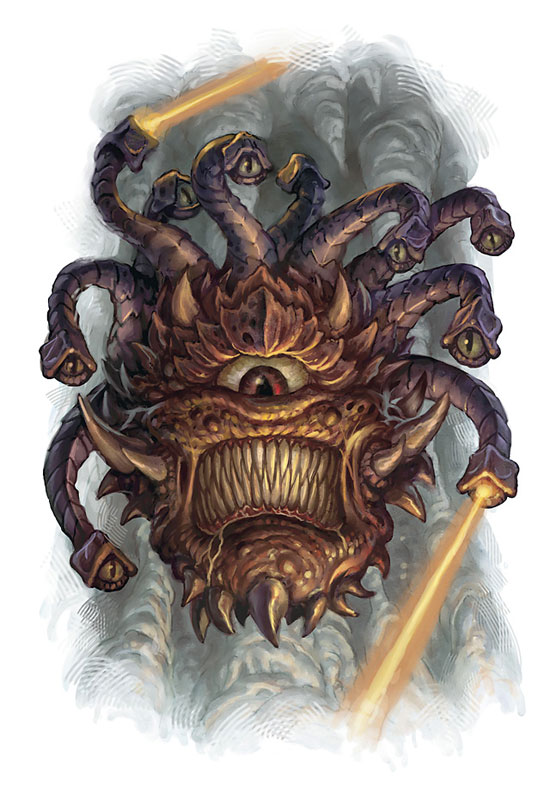 Character sheet by Roland Volz.
3E Beholder Hero Designer File
---
Return to Creatures From Role-Playing Games