COMICS-DERIVED CHARACTER ADAPTATIONS
AMAZING MAN
A.K.A. THE GREEN MIST



Val	CHA	Cost	Roll	Notes


25/35	STR	15	14-/16-	Lift 800 kg/3200 kg; 5d6/7d6 HTH Damage [2/3]
18/23	DEX	24	13-/14-	OCV:  6/8/DCV:  6/8
23/33	CON	26	14-/16-
13	BODY	6	12-
18	INT	8	13-	PER Roll 13-
18/23	EGO	16	13-/14-	ECV:  6/8
20	PRE	10	13-	PRE Attack:  4d6
10	COM	0	11-

11/23	PD	0		Total:  11/23 PD (6/11 rPD)
11/23	ED	0		Total:  11/23 ED (6/11 rED)
4	SPD	12		Phases:  3, 6, 9, 12
10/14	REC	0
46/66	END	0
38/48	STUN	0		

Total Characteristic Cost:  121





Movement:

	Running:	7"/14"
		Flight:		11"/22"
		Leaping:	6"/12"
		Swimming:	3"/6"



Cost	Powers & Skills

                                                                                                         
	

Amazing Power Skills


5	1)  

Amazing Strength:

  Power 15- (17-)
5	2)  

Amazing Reflexes and Coordination:

  Power 14- (15-)
5	3)  

Amazing Intellect:

  Power 14-
5	4)  

Amazing Willpower:

  Power 14- (15-)
5	5)  

Amazing Hardihood:

  Power 15- (17-)
5	6)  +1 with Amazing Power Skills

	

The Tests


	(These are challenges Aman faced as part of his origin story.)
34	1)  

The First Test: To Restrain A Rampaging Elephant:

  Suppress STR plus Any One Movement Power 
	7 1/2d6, STR plus any Movement Power simultaneously (+1/2), Reduced Endurance (1/2 END; +1/4), 
	Damage Shield (Offensive (use with Grabs); +3/4); Only Usable with Grab (-1), Concentration, Must 
	Concentrate throughout use of Constant Power (1/2 DCV; -1/2), Only When In Contact With The 
	Ground (-1/4), END 4
	

Notes:

  The idea is that if Amazing Man grabs something, it's not going anywhere. This works only 
	if in Amazing Man form and standing on the ground. Breaking the Grab cancels the effect.

16	2)  

The Second Test: To Slay A Cobra While Bound Hand And Foot.:

  Acrobatics 13- (14-) 

plus

 
	Breakfall 13- (14-) 

plus

 Contortionist 13- (14-) 

plus

 Double Jointed; Requires Amazing Reflexes 
	Skill Roll (Active Point penalty to Skill Roll is -1 per 5 Active Points; -1) 

plus

 Environmental 
	Movement (no penalties if bound) 

plus

 Lightning Reflexes: +2 DEX to act first with All Actions; 
	Requires Amazing Reflexes Skill Roll (Active Point penalty to Skill Roll is -1 per 5 Active 
	Points; -1)
	

Notes:

  He BIT it. Like a mongoose.

35	3)  

The Third Test: To Endure Wounds Unmoved By Pain Or Fear.:

  +8 PD; Concentration, Must Concentrate 
	throughout use of Constant Power (0 DCV; -1), Only Against Attacks He Is Aware Of And Prepared 
	For (-1/2), Limited Power STUN only (-1/2), Requires Amazing Willpower Skill Roll (Active Point 
	penalty to Skill Roll is -1 per 20 Active Points; -1/4) 

plus

 +8 ED; Concentration, Must C
	oncentrate throughout use of Constant Power (0 DCV; -1), Only Against Attacks He Is Aware Of And 
	Prepared For (-1/2), Limited Power STUN only (-1/2), Requires Amazing Willpower Skill Roll (Active 
	Point penalty to Skill Roll is -1 per 20 Active Points; -1/4) 

plus

 Combat Luck (6 PD/6 ED) 
	

plus

 Fearless 

plus

 Rapid Healing; Requires Amazing Hardihood Skill Roll (Active Point 
	penalty to Skill Roll is -1 per 5 Active Points; -1) 

plus

 Resistance (3 points)
	

Notes:

  After taking a knife wound to the chest and to the throat, Amazing Man removed the blades 
	himself and described the pain as "not unbearable."

54	4)  

The Fourth Test: To Answer A Thousand Questions, Each In A Different Tongue:

  Cramming; Requires 
	Amazing Intellect Skill Roll (Active Point penalty to Skill Roll is -1 per 5 Active Points; -1) 
	

plus

 Cramming , Trigger (Activating the Trigger requires a Zero Phase Action, Trigger requires 
	a Turn or more to reset; Amazing Man always seems to know what he needs to know; +1/4) 

plus

 
	Cramming, Trigger (Activating the Trigger requires a Zero Phase Action, Trigger requires a Turn 
	or more to reset; Amazing Man always seems to know what he needs to know; +1/4) 

plus

 
	Deduction 14- 

plus

 Eidetic Memory; Requires Amazing Intellect Skill Roll (Active Point 
	penalty to Skill Roll is -1 per 5 Active Points; -1) 

plus

 Lightning Calculator; Requires 
	Amazing Intellect Skill Roll (-1/2), Side Effects (If roll is missed by more than one, a WRONG 
	answer is given - usually a number equal to the right answer, plus 4; -1/4) 

plus

 Speed Reading 
	(x100) 

plus

 Speed Listening (x100); Only To Mentally Review Information Being "Played Back" By 
	Eidetic Memory (-1/2) 

plus

 Universal Translator 16-; Only Known, Human Languages (-1/4) 

plus

 
	Computer Link ; Requires Amazing Intellect Skill Roll (Active Point penalty to Skill Roll is -1 
	per 5 Active Points; -1), Extra Time (1 Turn (Post-Segment 12), Only to Activate, -3/4), Concentration, 
	Must Concentrate throughout use of Constant Power (1/2 DCV; Has to think about it; -1/2) 

plus

 Life 
	Support  (Eating: Character only has to eat once per week; Sleeping: Character only has to sleep 
	8 hours per week)
	

Notes:

  Some notes on the powers: Amazing Man is reported to have "passed easily" a test on "all 
	subjects." Rather than buy KS: Everything at <=30, I chose to annotate his encyclopedic knowledge 
	as a "computer link." to represent the library in his mind. This, combined with Eidetic Memory, 
	Speed Reading, Speed Listening (in a single Turn he can mentally review an hour and a  half lecture) 
	and three slots of Cramming mean that he can get an <=8 roll in almost anything (by consulting his 
	Eidetic Memory, and speed-studying it.) Note, however, that he is not omniscient (even he can't 
	read every book and every newspaper and attend every lecture on every subject!) nor is his information 
	perfect; even if he remembers a text, article, or conversation perfectly, the source may be 
	incomplete, outdated, or just plain wrong.

	

Purified by Fire


	

Notes:

  Six months after the first four Tests, Amazing Man was summoned by the Seven to a purification 
	by fire.
6	1) 

 Fireproof:

  +13 ED; Only against fire/heat (-1)
4	2)  

Fireproofed:

  Armor (0 PD/6 ED); Only against fire/heat (-1)
3	3)  Sight Group Flash Defense (3 points)
4	4)  Life Support  (Self-Contained Breathing); Fuel Dependent (fuel is Very Common (Oxygen); must 
	refuel Once per Hour; -1), Nonpersistent (-1/4)
2	5)  Life Support  (Safe in Intense Heat)
1	6)  

It Worked For Ayesha....:

  Life Support  (Longevity: 200 Years)
	 
	

Empowered by the Council of Seven,

 all slots Only When Serving The Council's Purposes (Powers may 
	be withdrawn at the Council's discretion; -1/2)
	

Notes:

  "Go now and fight for good against evil - for the weak against the strong! Good luck to you."
7	1)  +10 STR; Only When Serving The Council's Purposes (Powers may be withdrawn at the Council's 
	discretion; -1/2), END 1
10	2)  +5 DEX; Only When Serving The Council's Purposes (Powers may be withdrawn at the Council's 
	discretion; -1/2)
13	3)  +10 CON; Only When Serving The Council's Purposes (Powers may be withdrawn at the Council's 
	discretion; -1/2)
7	4)  +1 Overall; Only When Serving The Council's Purposes (Powers may be withdrawn at the Council's 
	discretion; -1/2)
18	5)  Flight 11", Position Shift; Only When Serving The Council's Purposes (Powers may be withdrawn 
	at the Council's discretion; -1/2), END 3
10	6)  Luck 3d6; Only When Serving The Council's Purposes (Powers may be withdrawn at the Council's 
	discretion; -1/2)
	 
68	

Amazing Man/Green Mist:

  Multipower, 120-point reserve, all slots Activation Roll 15-, Jammed 
	(Roll to Change Forms; -3/4)
	

Notes:

  When changing forms (changing from one slot to the other) roll for the "Jammed" Limitation. 
	Failure means Amazing Man is for some reason stuck in one form or the other for the time being.
6u	1)  

Green Mist Form:

  Desolidification, Reduced Endurance (0 END; +1/2); Activation Roll 15-, 
	Jammed (Roll to Change Forms; -3/4), Cannot Pass Through Airtight Barriers (-1/2) 

plus

 
	Affects Physical World (+2); Activation Roll 15-, Jammed (Roll to Change Forms; -3/4) for up to 
	30 Active Points of STR, END 6
5u	2)  

Amazing Man Form:

  +5 EGO (10 Active Points); Activation Roll 15-, Jammed (Roll to Change 
	Forms; -3/4) 

plus

 +5 PD; Activation Roll 15-, Jammed (Roll to Change Forms; -3/4) 

plus

 
	+5 ED; Activation Roll 15-, Jammed (Roll to Change Forms; -3/4) 

plus

 Armor (5 PD/5 ED); 
	Activation Roll 15-, Jammed (Roll to Change Forms; -3/4) 

plus

 Physical Damage Reduction, 
	Resistant, 50%; Activation Roll 15-, Jammed (Roll to Change Forms; -3/4) 

plus

 Energy 
	Damage Reduction, Resistant, 50%; Activation Roll 15-, Jammed (Roll to Change Forms; -3/4)

41	

Mist Size Change:

  Multipower, 62-point reserve, all slots Linked to Green Mist Form (-1/2)
4u	1)  

Can Fit Into A Test Tube:

  Shrinking (0.0625 m tall, 0.0031 kg mass, -10 PER Rolls to perceive 
	character, +10 DCV, takes +15" KB), Costs END Only To Activate (+1/4); Linked to Green Mist 
	Form (-1/2), END 5
3u	2)  

Can Fill The Room:

  Growth (+40 STR, +8 BODY, +8 STUN, -8" KB, 25,600 kg, -5 DCV, +5 PER Rolls 
	to perceive character, 12.7 m tall, 6.3 m wide), Reduced Endurance (0 END; +1/2); Does not add to 
	STR or BOD (-1/2), Linked to Green Mist Form (-1/2)
	 
	

Self Mastery:  "I am my own master."


10	1)  +10 EGO; Only against Mind Control or Mental Transform (-1)
11	2)  Mental Defense (15/16 points total)
15	3)  Power Defense (15 points)
5	4)  Mental Awareness
4	5)  Simulate Death (+1 to roll)
5	6)  +1 with Mental Combat
	 
	

Superlatively Gifted, Rigorously Trained


10	1)  Missile Deflection (Arrows, Slings, Outrageous Fortune, Etc.)
6	2)  Ambidexterity (no Off Hand penalty); Requires Amazing Reflexes Skill Roll (-1/2)
7	3)  Life Support  (Immunity: All terrestrial diseases and biowarfare agents); Requires Amazing 
	Hardihood Skill Roll (-1/2)
7	4)  Life Support  (Immunity: All terrestrial poisons and chemical warfare agents); Requires 
	Amazing Hardihood Skill Roll (-1/2)
6	5)  Clinging (normal STR); Requires Amazing Strength Skill Roll (-1/2), Cannot Resist Knockback (-1/4)
15	6)  Combat Sense 13-

	

Martial Arts:

  

Amazing Martial Techniques "As described by the narrator!"


	

Maneuver	OCV	DCV	Effect


4	Amazing Dodge "Our hero evades this dastardly attack"
			--	+5	Dodge, Affects All Attacks, Abort
4	Amazing Escape "Who can hope to hold this man called The Green Mist?"
			+0	+0	50 STR /60 STR vs. Grabs
5	Amazing Knockdown/Throw/Trip "See how lesser men fall before Amazing Man!"
			+0	+0	7d6/9d6 +v/5; Target Falls; FMove
5	Amazing Moves (Passing Strike) "Amazing Man deals with this foe without breaking stride."
			+1	+0	7d6/9d6 +v/5; FMove
4	Amazing Parry  "Amazing Man declares 'I think not' and catches the thrusting blade between the 
	palms of his bare hands! "
			+2	+2	Block, Abort
3	Amazing Wrestling Holds "In vain the villain struggles to escape the powerful grip"
			-1	-1	Grab Two Limbs, 45 STR /55 STR for holding on
4	Immovable Object "The arrogant thug tries to force this unwanted intruder back out through the 
	door, and finds that Amazing Man is not so easily pushed around."
			+0	+0	50 STR /60 STR to resist Shove; Block, Abort
4	Irresistible Force "Surprised, the guard staggers back helplessly"
			+0	+0	50 STR /60 STR to Shove
5	Seize Weapon "As quickly as he says 'let me take that before you hurt someone' he disarms the villain"
			+0	+0	Grab Weapon, 45 STR /55 STR to take weapon away
8	+2 HTH Damage Classes "To teach them a lesson!"
6	Weapon Element:  Chain & Rope Weapons, Clubs, Homemade 
	Weapons, Missile Deflection Power, Off Hand, Staves

	

Skills


20	+2 Overall

3	Concealment 13-
10	Defense Maneuver I-IV 
3	Navigation (Land, Marine) 13-
3	Shadowing 13-
4	Survival (Temperate/Subtropical, Mountain) 13-
3	Tactics 13-
3	Tracking 13-
3	Stealth 13- (14-)



Total Powers & Skill Cost:  586
Total Cost:  707

200+	Disadvantages


10	Dependent NPC:  Zona Henderson or Tommy Henderson 11- (Slightly Less Powerful than the PC)
15	Enraged:  Berserk if surprised. (Dangerously honed reflexes) (Uncommon), go 8-, recover 14-
15	Hunted:  The Council of Seven 8- (Mo Pow; NCI; PC has a Public ID or is otherwise very easy to find; 
	Watching)
25	Hunted:  The Great Question 11- (As Pow; NCI; PC has a Public ID or is otherwise very easy to find; 
	Harshly Punish)
10	Psychological Limitation:  Loyal To The Council Of Seven (Uncommon; Strong)
15	Psychological Limitation:  Heroic—"Fights For Good Against Evil, For The Weak Against The 
	Strong." (Common; Strong)
10	Psychological Limitation:  Protective Of Children, Especially Orphans (Uncommon; Strong)
10	Unluck: 2d6
10	Vulnerability:  2 x Effect Mind Scan (Unique mental signature) (Uncommon)
10	Vulnerability:  1 1/2 x Effect PRE Attacks Involving Threats To Innocents (Common)
377	

Experience Points

Total Disadvantage Points:  148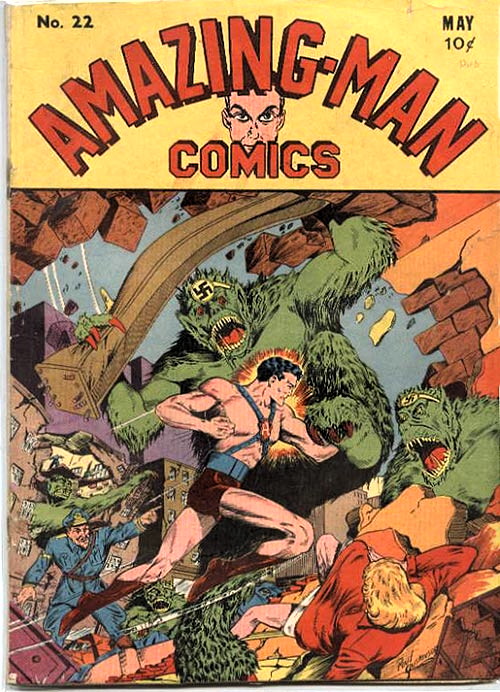 Background/History: The secret Tibetan Council of Seven clairvoyantly oversee a global network of benevolence, including support for orphanages on all continents. John Aman was an orphan who stood out among his peers in physical development, mental acuity, and integrity of character. Nika, perhaps the most forward looking among the Council, named him "Prince of Orphans" and the Council agreed to bring this amazing child from America to Tibet to oversee his education closely, with an eye to empowering him as their champion, the forceful and proactive agent for good that they expected the world to sorely need in the years of strife and evil they foresaw.
Unfortunately, the Council did not yet see the evil lurking in their own midst - The Great Question, a powerful telepath who acted as their chief interrogator, had created his own web of crime and villainy, seduced by the lure of power for its own sake. Eventually frustrated in the hope of controlling Amazing Man directly, The Great Question sends minions to initiate various plots and manipulates the hero's loyalty to the Council. Eventually his evil is exposed and he is subtracted from the Seven, but that can only multiply his enmity towards John Aman....
Powers/Tactics: Amazing Man has the standard Golden Age, Superman Wannabe power suite - Flight, Super Strength, and Invulnerability. This write up is based on only the most readily available information, and geared towards the minimum necessary to meet the superlative descriptions. The inclusion of five SEPARATE Power Skills - based on STR, DEX, INT, EGO, and CON - is meant to cover whatever amazing feats related to those traits are not already on the character sheet. So if, in order to save a life, Amazing Man must lift more than his STR 30 can normally manage, he can make an Amazing STR roll to perform an Amazing Push, or to be allowed to "Haymaker" his STR even if it's not in combat, per se.
If you are familiar with Amazing Man's exploits, feel free to modify this version as needed, or contact me with suggestions.
Campaign Use: As a heroic NPC, Amazing Man is an obvious Superman-like choice for a "Deus ex machina" to rescue the heroes. Conversely, he may have been captured or neutralized somehow and the player characters must rescue HIM.
If The Great Question can arrange it, it is quite possible that Amazing Man and the player characters can come into conflict - anything from a "brute force" application of Mental Illusions to subtle and byzantine plots with multiple layers of deception can put Amazing Man and the player heroes on a collision course. If you want to rewrite comic book "history" the player characters may even prove to be responsible for The Great Question's unmasking and exposure to the Council of Seven!
Appearance: Amazing Man's first appearance was in 1939 in Amazing Man Comics #5. There were no Amazing Man Comics numbered 1 to 4. The Fifth was really the First. At the time, publishers would number comics this way to create the impression the character had already existed for a few months—so many titles folded after just one issue that buyers were reluctant to purchase an issue #1 and read about a character they might never see again.
According to Public Domain Superheroes, Amazing Man was created by Bill Everett, published by Centaur, and the character is in the public domain.
Character sheet by Lucius Alexander, Copyright Palindromedary Enterprises.
---
Return to Comic-Derived Character Adaptations