COMICS-DERIVED CHARACTER ADAPTATIONS
IRON MAN



Val	CHA	Cost	Roll	Notes


15+25	STR	5	12-/17-	Lift 200 kg/6400 kg; 3d6/8d6 HTH Damage [1/3]
15+5	DEX	10	12-/13-
15+10	CON	-5	12-/14-
23	INT	13	14-	PER Roll 17-
23	EGO	13	14-
25	PRE	15	14-	PRE Attack:  5d6

6+2	OCV	15	
6+4	DCV	15	
3	OMCV	0	
5	DMCV	6	
4+1	SPD	10		Phases:  3, 6, 9, 12/3, 5, 8, 10, 12

8+18	PD	2		Total:  8/26 PD (0/12 rPD)
14+12	ED	2		Total:  14/26 ED (0/12 rED)
8+8	REC	-2
40	END	-2
12+4	BODY	2
40	STUN	0		

Total Characteristics Cost: 95





Movement:

	Running:  14m/24m/28m/48m 
		Flight:  60m/240m
		Leaping:  4m/8m
		Swimming:  4m/8m



Cost	Powers & Skills


	

Armor Core Systems

, all slots OIF Durable (-½), Unified Power (Magnetic Repulsor Systems; -¼)	
14	1)  +25 STR; OIF Durable (-½), Unified Power (Magnetic Repulsor Systems; -¼), END 2
6	2)  +5 DEX; OIF Durable (-½), Unified Power (Magnetic Repulsor Systems; -¼)	
6	3)  +10 CON; OIF Durable (-½), Unified Power (Magnetic Repulsor Systems; -¼)	
6	4)  +2 OCV; OIF Durable (-½), Unified Power (Magnetic Repulsor Systems; -¼)	
11	5)  +4 DCV; OIF Durable (-½), Unified Power (Magnetic Repulsor Systems; -¼)	
6	6)  +1 SPD; OIF Durable (-½), Unified Power (Magnetic Repulsor Systems; -¼)	
3	7)  +6 PD; OIF Durable (-½), Unified Power (Magnetic Repulsor Systems; -¼)	
3	8)  +6 ED; OIF Durable (-½), Unified Power (Magnetic Repulsor Systems; -¼)	
4	9)  +8 REC; OIF Durable (-½), Unified Power (Magnetic Repulsor Systems; -¼)	
2	10) +4 BODY; OIF Durable (-½), Unified Power (Magnetic Repulsor Systems; -¼)	
17	11) 

Power Allocation Control:

  Aid  any Armor System or Armor Core Characteristic 6d6, Armor Systems (+½);
	2 Recoverable Charges (-1), Side Effects, Side Effect always occurs (Drain one System equal to amount
	Aided; -½), OIF Durable (-½), Unified Power (Magnetic Repulsor Systems; -¼), [2 rc]
36	12) 

Core Armor:

  Resistant Protection (12 PD/12 ED) (Impermeable), Hardened (+¼), Impenetrable (+¼), 
	Difficult To Dispel (x2 Active Points; Hardened Electronics; +¼); OIF Durable (-½), Unified Power 
	(Magnetic Repulsor Systems; -¼)
6	13) 

Inertial Control Systems and Mass:

  Knockback Resistance -10m; OIF Durable (-½), Unified Power 
	(Magnetic Repulsor Systems; -¼)
5	14) 

Pressurized Systems:

  LS  (Safe in High Pressure; Safe in High Radiation; Safe in Intense Cold; 
	Safe in Intense Heat; Safe in Low Pressure/Vacuum); OIF Durable (-½), Unified Power (Magnetic 
	Repulsor Systems; -¼)
3	15) 

Hardened Systems:

  Power Defense (10 points); Electro-Magnetic Attacks Only (-1 ½), OIF 
	Durable (-½), Unified Power (Magnetic Repulsor Systems; -¼)
	 	
	

Armor Chestplate

, all slots Perceivable (-¼), Unified Power (Magnetic Repulsor Systems; -¼)	
7	1)  +10 CON; Perceivable (-¼), Unified Power (Magnetic Repulsor Systems; -¼)	
7	2)  +1 SPD; Perceivable (-¼), Unified Power (Magnetic Repulsor Systems; -¼)	
3	3)  +4 PD; Perceivable (-¼), Unified Power (Magnetic Repulsor Systems; -¼)	
3	4)  +4 ED; Perceivable (-¼), Unified Power (Magnetic Repulsor Systems; -¼)	
4	5)  +6 REC; Perceivable (-¼), Unified Power (Magnetic Repulsor Systems; -¼)	
4	6)  +30 END; Perceivable (-¼), Unified Power (Magnetic Repulsor Systems; -¼)	
7	7)  +20 STUN; Perceivable (-¼), Unified Power (Magnetic Repulsor Systems; -¼)	
4	8)  Running +6m (14m/24m total); Perceivable (-¼), Unified Power (Magnetic Repulsor Systems; -¼), END 1
	 	
	

Armor Helmet Systems

, all slots OIF Durable (-½), Unified Power (Magnetic Repulsor Systems; -¼)	
6	1)  

Breathing Systems:

  LS  (Self-Contained Breathing); OIF Durable (-½), Unified Power (Magnetic 
	Repulsor Systems; -¼), 1 Continuing Fuel Charge lasting 20 Minutes (Recovers in Atmosphere; -0), [1 cc]
2	2)  

Range Finder:

  Absolute Range Sense; OIF Durable (-½), Unified Power (Magnetic Repulsor Systems; -¼)	
2	3)  

Clock:

  Absolute Time Sense; OIF Durable (-½), Unified Power (Magnetic Repulsor Systems; -¼)	
2	4)  

Computer Systems:

  Lightning Calculator; OIF Durable (-½), Unified Power (Magnetic Repulsor Systems; -¼)	
3	5)  

Recording Systems:

  Eidetic Memory; OIF Durable (-½), Unified Power (Magnetic Repulsor Systems; -¼)	
6	6)  

Air Filters:

  LS  (Immunity All terrestrial poisons; Immunity: All terrestrial diseases); OIF 
	Durable (-½), Unified Power (Magnetic Repulsor Systems; -¼)
7	7)  

Sonic Filtration:

  Hearing Group Flash Defense (12 points); OIF Durable (-½), Unified Power 
	(Magnetic Repulsor Systems; -¼)
7	8)  

Electromagnetic Filtration:

  Sight Group Flash Defense (12 points); OIF Durable (-½), Unified 
	Power (Magnetic Repulsor Systems; -¼)
4	9)  

Sensor Enhancement Systems:

  +3 PER with all Sense Groups; OIF Durable (-½), Only Sensor Systems (-¼), 
	Unified Power (Magnetic Repulsor Systems; -¼)
15	10) 

Radio Systems:

  HRRP (Radio Group), Discriminatory, Telescopic:  +10, Tracking; OIF Durable (-½), 
	Unified Power (Magnetic Repulsor Systems; -¼)
3	11) 

Image Enhancement I:

  Nightvision; OIF Durable (-½), Unified Power (Magnetic Repulsor Systems; -¼)
3	12) 

Image Enhancement II:

  IR Perception (Sight Group); OIF Durable (-½), Unified Power (Magnetic 
	Repulsor Systems; -¼)
11	13) 

Object Tracking System:

  Radar (Radio Group), Increased Arc Of Perception (360 Degrees); OIF 
	Durable (-½), Unified Power (Magnetic Repulsor Systems; -¼)
12	14) 

Chemical Sniffer:

  Detect A Large Class Of Things 17-/14- (Smell/Taste Group), Increased Arc 
	Of Perception (360 Degrees), Range, Telescopic:  +4; OIF Durable (-½), Unified Power (Magnetic 
	Repulsor Systems; -¼)
	 	
	

Armor Mobility Systems

, all slots OIF Durable (-½), Lockout (-½), Unified Power (Magnetic Repulsor 
	Systems; -¼)	
19	1)  

Basic Flight:

  Flight 30m, x4 Noncombat, No Turn Mode (+¼); OIF Durable (-½), Lockout (-½), 
	Unified Power (Magnetic Repulsor Systems; -¼)	4
4	2)  

Enhanced Running:

  Running +10m (14m/24m total); OIF Durable (-½), Lockout (-½), Unified Power 
	(Magnetic Repulsor Systems; -¼)	1
4	3)  

Magnetic Grips:

  Clinging (normal STR); Magnetic (-½), OIF Durable (-½), Lockout (-½), Unified 
	Power (Magnetic Repulsor Systems; -¼)
	 	
43	

Armor Combat Systems:

  Multipower, 75-point reserve, all slots OIF Durable (-½), Unified Power 
	(Magnetic Repulsor Systems; -¼)	
3f	1)  

Fly By:

  Resistant Protection (6 PD); Costs Endurance (-½), Only During Collision (Move By, 
	Move Through, etc.) (-½), OIF Durable (-½), Unified Power (Magnetic Repulsor Systems; -¼) 

plus

 
	+18 PD; Costs Endurance (-½), Only During Collision (Move By, Move Through, etc.) (-½), OIF Durable (-½), 
	Unified Power (Magnetic Repulsor Systems; -¼) 

plus

 Flight 30m; OIF Durable (-½), Unified Power 
	(Magnetic Repulsor Systems; -¼), END 6
	

Notes:

  Move-By = +6d6, Move Through = +10d6;
4f	2)  

Repulsor Blast:

  Blast 12d6, Reduced Endurance (½ END; +¼); OIF Durable (-½), Unified Power 
	(Magnetic Repulsor Systems; -¼), END 3
4f	3)  

Repulsor Burst:

  Blast 10d6, Autofire (5 shots; +½); OIF Durable (-½), Beam (-¼), Unified Power 
	(Magnetic Repulsor Systems; -¼), END 7
4f	4)  

Repulsor Wide Beam:

  Blast 12d6, Area Of Effect (4m Radius; +¼); OIF Durable (-½), Unified Power 
	(Magnetic Repulsor Systems; -¼), END 7
4f	5)  

Repulsor Precision:

  Blast 12d6, Half Range Modifier (+¼); OIF Durable (-½), Unified Power 
	(Magnetic Repulsor Systems; -¼), END 7
4f	6)  

Repulsor Enhanced:

  Blast 10d6, Double Knockback (+½); OIF Durable (-½), Unified Power 
	(Magnetic Repulsor Systems; -¼), END 7
2f	7)  

Repulsor Punch:

  HA +4d6, Reduced Endurance (0 END; +½), Double Knockback (+½); OIF Durable (-½), 
	Hand-To-Hand Attack (-¼), Unified Power (Magnetic Repulsor Systems; -¼)

	

Perks


12	Fringe Benefit:  Chairman of BoD of Stark Industries, Heavy Weapon Permit, Passport, Security Clearance
11	Money:  Filthy Rich
6	

It's Iron Man!:

  Positive Reputation (A large group) 14-, +2/+2d6

	

Skills


24	

Experienced:

  +2 Overall
6	

Combat Training:

  +2 with Armor Systems

3	Bureaucratics 14-
3	Charm 14-
3	Climbing 12- (13-)
3	Combat Driving 12- (13-)
3	Combat Piloting 12- (13-)
3	Computer Programming 14-
3	Conversation 14-
3	Deduction 14-
5	Electronics 15-
3	Gambling 14-
5	High Society 15-
9	Inventor 17-
4	KS: Business World 15-
3	KS: Obscure Sciences 14-
0	Language:  English (idiomatic)
1	Language:  Mandarin (basic conversation)
3	Mechanics 14-
3	Navigation 14-
4	PS: Executive 15-
3	PS: Scientist 14-
3	Paramedics 14-
3	Persuasion 14-
3	Security Systems 14-
3	Systems Operation 14-
5	Teamwork 13- (14-)
3	Trading 14-
3	Weaponsmith 14-
3	Scientist
2	1)  SS:  Engineering 14-
2	2)  SS:  Metallurgy 14-
2	3)  SS:  Physics 14-



Total Powers & Skill Cost:  503
Total Cost:  598

400+	Matching Complications


10	DNPC:  Pepper Potts Infrequently (Normal)
25	Dependence:  Electrical Recharge of Chestplate Takes 1d6 Damage (Common; 5 Minutes; Addiction)
20	Hunted:  Iron Man Rogues Gallery Infrequently (Mo Pow; PC has a Public ID or is otherwise very 
	easy to find; Harshly Punish)
10	Psychological Complication:  Playboy (Common; Moderate)
10	Social Complication:  Public Identity (Frequently, Major, Not Limiting In Some Cultures)
198	Experience Points
(2 points unspent)



Total Complications Points:  598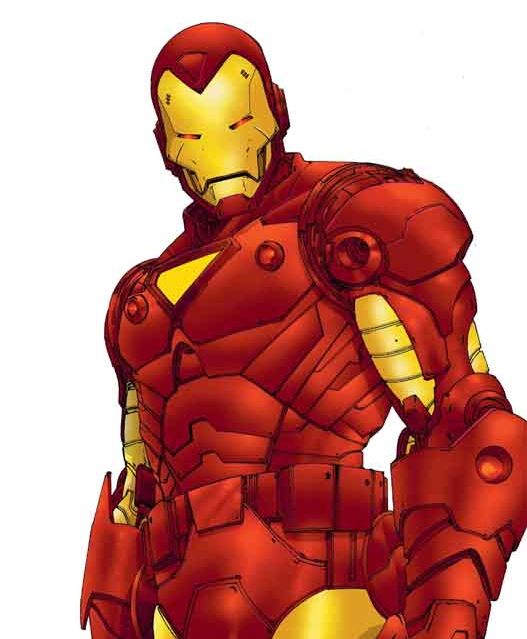 Background/History: The son of a wealthy industrialist and head of Stark Industries, Howard Stark, and Maria Stark, Anthony Stark is born on Long Island. A boy genius, he enters MIT at the age of 15 to study electrical engineering. After his parents' accidental deaths in a car crash, he inherits his father's company. While observing the effects of his experimental technologies on the American war effort, Tony Stark is injured by a booby trap and captured by the enemy, who then orders him to design weapons for them. However, Stark's injuries are dire and shrapnel in his chest threatens to pierce his heart. His fellow prisoner, Ho Yinsen, a Nobel Prize-winning physicist whose work Stark had greatly admired during college, constructs a magnetic chest plate to keep the shrapnel from reaching Stark's heart, keeping him alive. Stark discovers the shrapnel lodged in his chest cannot be removed without killing him, and he is forced to wear the armor's chestplate beneath his clothes to act as a regulator for his heart. He must also recharge the chestplate every day or else risk the shrapnel killing him.
Personality/Motivation: A genius level intellect that allows him to create a range of sophisticated inventions, most notably his Iron Man armor. Also possesses a keen business mind.
Powers/Tactics: Stark is a straight up tactician and fighter. Direct and to the point.
Appearance: 198cm (6'6"), 193kg (425lbs) in Armor.
---
Return to Comic-Derived Character Adaptations