MARVEL COMICS CHARACTER ADAPTATIONS
CYCLOPS



Val	CHA	Cost	Roll	Notes


15	STR	5	12-	Lift 200 kg; 3d6 HTH Damage [1]
23	DEX	26	14-
23	CON	13	14-
20	INT	10	13-	PER Roll 15-
20	EGO	10	13-
23	PRE	13	14-	PRE Attack:  4 ½d6

8	OCV	25	
8	DCV	25	
3	OMCV	0	
6	DMCV	9	
5	SPD	30		Phases:  3, 5, 8, 10, 12

16	PD	8		Total:  16 PD (6 rPD)
16	ED	8		Total:  16 ED (6 rED)
10	REC	6
80	END	12
15	BODY	5
44	STUN	12		

Total Characteristics Cost:  222





Movement:

	Running:  16m/32m 
		Leaping:  6m/12m
		Swimming:  4m/8m



Cost	Powers & Skills
	Martial Arts:

  

Karate, Judo, Aikido


	

Maneuver	OCV	DCV	Notes


3	Defensive Throw	+1	+1	Block, Target Falls
3	Grappling Throw	+0	+2	8d6 Strike; Target Falls; Must Follow Grab
5	Joint Break	-1	-2	Grab One Limb; HKA 3d6+1, Disable
4	Joint Lock/Throw
			+1	+0	Grab One Limb; 2 ½d6 NND; Target Falls
5	Kick		-2	+1	10d6 Strike
3	Legsweep	+2	-1	7d6 Strike, Target Falls
4	Martial Block	+2	+2	Block, Abort
4	Martial Disarm	-1	+1	Disarm; 40 STR to Disarm
4	Martial Dodge	--	+5	Dodge, Affects All Attacks, Abort
3	Martial Throw	+0	+1	6d6 +v/10, Target Falls
4	Punch		+0	+2	8d6 Strike
4	Root		+0	+0	45 STR to resist Shove; Block, Abort
4	Shove		+0	+0	45 STR to Shove
5	Takeaway	+0	+0	Grab Weapon, 40 STR to take weapon away
12	+3 HTH Damage Classes (already added in)

47	

Eye Beams:

  Multipower, 90-point reserve, all slots Side Effects (EGO Roll per Phase to keep eyes 
	closed or uncontrolled blast (16d6 at random), Side Effect occurs only if visor is removed; -½)	
6f	1)  

Eye Beam:

  Blast 9d6, Reduced Endurance (0 END; +½), Constant (+½); Side Effects (EGO Roll per 
	Phase to keep eyes closed or uncontrolled blast (16d6 at random), Side Effect occurs only if visor 
	is removed; -½)
4f	2)  

Eye Beam Wide:

  Blast 6d6, Constant (+½), Area Of Effect (16m Cone; +½); Side Effects (EGO Roll 
	per Phase to keep eyes closed or uncontrolled blast (16d6 at random), Side Effect occurs only if 
	visor is removed; -½), END 6
4f	3)  

Eye Beam Pulse:

  Blast 12d6; Side Effects (EGO Roll per Phase to keep eyes closed or uncontrolled 
	blast (16d6 at random), Side Effect occurs only if visor is removed; -½), END 6
4f	4)  

Eye Beam Rapid Pulse:

  Blast 6d6, Area Of Effect (16m Radius; +¾), Selective (+¼); Side Effects 
	(EGO Roll per Phase to keep eyes closed or uncontrolled blast (16d6 at random), Side Effect occurs 
	only if visor is removed; -½)	6
3f	5)  

Eye Beam Push:

  Telekinesis (40 STR); Shove Only (-½), Side Effects (EGO Roll per Phase to keep 
	eyes closed or uncontrolled blast (16d6 at random), Side Effect occurs only if visor is removed; -½),
	Affects Whole Object (-¼), END 6
4f	6)  

Eye Beam Burst:

  Sight Group Flash 12d6; Side Effects (EGO Roll per Phase to keep eyes closed 
	or uncontrolled blast (16d6 at random), Side Effect occurs only if visor is removed; -½), END 6
	 	
12	

X-Men Uniform:

  Resistant Protection (6 PD/6 ED); OIF (-½)
8	

Willpower:

  Mental Defense (8 points total)
16	

Mutant Eyes:

  Sight Group Flash Defense (16 points)
6	+2 PER with all Sense Groups
13	

X-Men Communicator:

  HRRP (Radio Group); Private Channels Only (-½), IIF (-¼) 

plus

 +6 with Cryptography; 
	Encrypted Transmission (-1)

	

Perks


20	Vehicles & Bases

	

Talents


3	Absolute Range Sense
5	

Iron Will:

  Resistance (+5 to roll)
3	

Handsome:

  +1/+1d6 Striking Appearance (vs. all characters)

	

Skills


24	+2 Overall
9	+3 with Eye Beams

3	AK: Muir Island 13-
3	Acrobatics 14-
3	Breakfall 14-
3	CK: New York City 13-
3	Climbing 14-
3	Combat Piloting 14-
3	Computer Programming 13-
3	Concealment 13-
3	Conversation 14-
3	Deduction 13-
3	KS: Aikido 13-
3	KS: Judo 13-
3	KS: Karate 13-
0	Language:  English (idiomatic; literate)
2	Language:  Japanese (fluent conversation)
2	Language:  Russian (fluent conversation)
4	Navigation (Air, Land, Space) 13-
3	PS: Leader 14-
3	Paramedics 13-
3	SS:  Spacial Geometry 13-
3	Shadowing 13-
3	Stealth 14-
8	TF:  Common Motorized Ground Vehicles, Science Fiction & Space Vehicles, Combat Aircraft, 
	Helicopters, Large Planes, Small Planes, Two-Wheeled Motorized Ground Vehicles
3	Tactics 13-
3	Teamwork 14-



Total Powers & Skill Cost:  334
Total Cost:  556

400+	Matching Complications


5	Distinctive Features:  Mutant (Easily Concealed; Extreme Reaction; Detectable Only By Technology 
	Or Major Effort)
15	Enraged:  If Teammates Injured (Common), go 8-, recover 11-
20	Hunted:  Genocide Infrequently (Mo Pow; NCI; Harshly Punish)
20	Psychological Complication:  Code Against Killing (Common; Total)
10	Psychological Complication:  In Love With Jean Grey (Uncommon; Strong)
15	Psychological Complication:  Protector of Normals (Common; Strong)
10	Social Complication:  Secret Identity: Scott Summers Infrequently, Major
156	Experience Points
(44 points unspent)



Total Complications Points:  556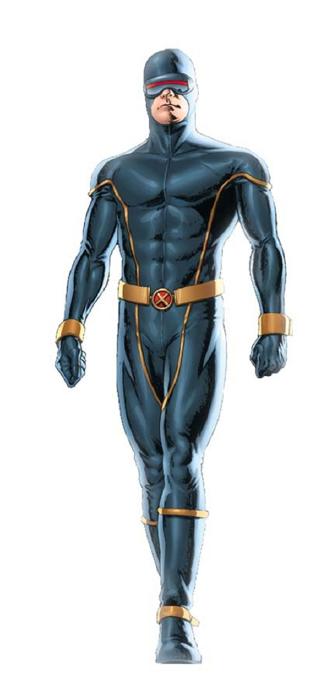 Background/History: A mutant, Cyclops produces a powerful beam with great destructive power from his eyes referred to as an "optic blast". In uniform, he wears a unique ruby quartz battle visor with a lens which runs from eye-to-eye giving him a one-eyed appearance, hence the codename "Cyclops." Scott is the first X-Man recruited by Charles Xavier and as one of the original five X-Men, Cyclops has had a large presence in X-Men-related comics since their inception. He has also been featured in almost every adaptation of the team in other media. In practically every incarnation of the character, he has almost always been shown to be not only Charles Xavier's most loyal student, but also the one who most believes in his dream of mutant and human equality.
Xavier is known to view Scott as one of his most, if not the most prized pupil. The relationship is not mentor to protege but akin to that of a father to son. Xavier hand picked Scott to lead his X-Men and to carry on his ideals. From time to time Scott's loyalty to Xavier has cost him dearly. He has remained by Xavier's side and eventually moved out of Xavier's shadow as the singular leader of the X-Men.
Powers/Tactics: Cyclops has the power to emit beams of energy from his eyes described as an 'optic blast'. The beams have the appearance of red light (i.e., electromagnetic radiation in a red wavelength); however, they do not give off heat and instead deliver concussive force. The beams are tremendously powerful and can be used to rupture steel plates and pulverize rock.
---
Return to Comic-Derived Character Adaptations