MARVEL COMICS CHARACTER ADAPTATIONS
CAPTAIN AMERICA



Val	CHA	Cost	Roll	Notes


25	STR	15	14-	Lift 800 kg; 5d6, HTH Damage [1]
25	DEX	30	14-
25	CON	15	14-
18	INT	8	13-	PER Roll 13-
18	EGO	8	13-
25	PRE	15	14-	PRE Attack:  5d6

9	OCV	30	
9	DCV	30	
3	OMCV	0	
5	DMCV	6	
6	SPD	40		Phases:  2, 4, 6, 8, 10, 12

18+12	PD	8		Total:  18/30 PD (8/20 rPD)
18+8	ED	8		Total:  18/26 ED (8/16 rED)
12	REC	8
55	END	7
22	BODY	12
55	STUN	18		

Total Characteristics Cost:  276





Movement:

	Running:  22m/44m 
	Leaping:  12m/24m
	Swimming:  12m/24m



Cost	Powers & Skills
	Martial Arts:

  

Acrobatic Style with Boxing & Judo Elements


	

Maneuver	OCV	DCV	Notes


4	Choke 		-2	+0	Grab One Limb; 3 ½d6 NND
5	Defensive Block	+1	+3	Block, Abort
4	Disarm		+2	-2	Disarm, 50 STR to Disarm roll
4	Dodge		--	+5	Dodge, Affects All Attacks, Abort
4	Escape		+0	+0	55 STR vs. Grabs
3	Flying Tackle	+0	-1	8d6 +v/10 Strike; You Fall, Target Falls; FMove
3	Grapple		-1	-1	Grab Two Limbs, 50 STR for holding on
3	Grappling Throw	+0	+2	10d6 Strike; Target Falls; Must Follow Grab
3	Legsweep	+2	-1	9d6 Strike, Target Falls
3	Martial Throw	+0	+1	8d6 +v/10, Target Falls
5	Various Kicks	-2	+1	12d6 Strike
4	Various Strikes	+0	+2	10d6 Strike
1	Weapon Element:  Shields, Unarmed Combat
12	+3 HTH Damage Classes (already added in)

30	

Vibranium Alloy Shield:

  Multipower, 76-point reserve, all slots OAF Unbreakable (-1), Lockout (-½)	
2f	1)  

Shield Block:

  Resistant Protection (12 PD/8 ED) (Protect Carried Items, Usually combined with 
	Block maneuver), Impenetrable (+¼), Hardened (+¼); OAF Unbreakable (-1), Must Be Aware of Attack (-½), 
	Lockout (-½), Nonpersistent (-¼), Gestures (-¼) 

plus

 Knockback Resistance -16m; OAF Unbreakable (-1), 
	Lockout (-½)	0
1f	2)  

Shield Edge:

  HKA 1d6+1 (3d6 w/STR); OAF Unbreakable (-1), Lockout (-½), END 2
1f	3)  

Shield-Bash:

  HA +4d6; OAF Unbreakable (-1), Hand-To-Hand Attack (-½), Lockout (-½), END 2
2f	4)  

Thrown Shield:

  Blast 12d6, Reduced Endurance (½ END; +¼); OAF Unbreakable (-1), Restrainable 
	(can be caught; -½), Lockout (-½), Range Based On Strength (20m; -¼), END 3
2f	5)  

Shield Line 16m:

  Blast 12d6, Area Of Effect (16m Line; +¼); OAF Unbreakable (-1), Restrainable 
	(can be caught; -½), Lockout (-½), Range Based On Strength (20m; -¼), END 7
2f	6)  

Shield Radius 8m:

  Blast 8 ½d6, Area Of Effect (8m Radius; +½), Selective (+¼); OAF Unbreakable (-1), 
	Restrainable (can be caught; -½), Must Bounce Off Surface (-½), Lockout (-½), Range Based On Strength 
	(20m; -¼), END 7
2f	7)  

Ricochet Shield:

  Blast 8 ½d6, Indirect (Source Point is the same for every use, path can change 
	with every use; +¾); OAF Unbreakable (-1), Restrainable (can be caught; -½), Must Bounce Off Surface (-½), 
	Lockout (-½), Range Based On Strength (20m; -¼), END 7
0f	8)  

Ranged Disarm:

  Damage vs. STR, -3 to -5 OCV; OAF Unbreakable (-1), Lockout (-½)	var
	 	
	

Battlefield Marvel

	
12	1)  

Kevlar Suit:

  Resistant Protection (6 PD/6 ED); OIF (-½)
8	2)  

Combat Awareness:

  +4 DCV; Only to Offset DCV Penalties From Surprise or Multiple Attackers (-1 ½)	
6	3)  

Toughness:

  Resistant Protection (2 PD/2 ED)
5	4)  

Resolute:

  Mental Defense (5 points total)
5	5)  

Endurance Runner:

  Reduced Endurance (½ END; +¼) applied to Running	
6	6)  Endurance Fighter:  Reduced Endurance (½ END; +¼) applied to STR	
7	7)  

Physical Marvel:

  Life Support  (Extended Breathing: 1 END per Turn; Immunity: All terrestrial 
	diseases and biowarfare agents; Longevity: 200 Years)
	 	
12	

Heroic Leader:

  Aid 3d6, Combat Skills, Teamwork, or PRE (+½), Area Of Effect (8m Radius; Voice Radius; +½), 
	Selective (+¼); Requires A Roll (Tactics Skill roll -4; -½), Extra Time (Full Phase, -½), Perceivable 
	(Tactical Commands; -½), Only if Target Obeys Cap (-½), Incantations (-¼), END 4
	

Notes:

  

"Avengers Assemble!":

 PRE +9 plus +3 per Tactics success (max +18); 
	

Tactical Leader:

 +1 HTH or Ranged plus +1 CSL per Tactics success (max +2); 
	

Team Leader:

 +2 Teamwork plus +1 per Tactics success (max +4); others as appropriate
7	

Shield Deflection:

  +3 DCV; OAF Unbreakable (Shield; -1)	
5	

Avengers' Communicator:

  High Range Radio Perception (Radio Group); OAF (-1), Sense Affected As 
	Sight and Hearing Groups As Well As Radio Group (-½)

	

Perks


0	

Avengers Assemble:

  Fringe Benefit:  Membership: The Avengers (Active Membership)
3	

It's The Avengers!:

  Reputation:  Member of the Avengers (A large group) 14-, +1/+1d6
9	

The American Icon:

  Reputation:  Hero most associated with America (A large group) 14-, +3/+3d6
5	

Avengers Gear:

  Vehicles & Bases: Quinjets, Avengers Mansion, other offices - Individual Contribution
3	Well-Connected
3	1)  

Fantastic Four:

  Contact:  Reed Richards (Contact has very useful Skills or resources, 
	Good relationship with Contact) 8-
6	2)  

SHIELD:

  Contact:  Nick Fury (Contact has access to major institutions, Contact has significant 
	Contacts of his own, Contact has useful Skills or resources, Very Good relationship with Contact) 11-
14	3) 

 US Government:

  Contact:  White House (Contact has access to major institutions, Contact has 
	extremely useful Skills or resources, Contact has significant Contacts of his own, Contact limited 
	by identity), Organization Contact (x3) 8-

	

Talents


3	Absolute Range Sense
3	Absolute Time Sense
15	Martial Awareness:  Combat Sense 13-
3	Lightsleep
4	Resistance (+4 to roll)

	

Skills


24	

Experience:

  +2 Overall
20	

Combat Genius:

  +2 with All Combat
6	

Shield Specialist:

  +2 with Shield

3	Acrobatics 14-
3	Breakfall 14-
3	Climbing 14-
3	Combat Driving 14-
3	Fast Draw:  Shield 14-
3	Interrogation 14-
0	KS: The Avengers 13-
3	KS: The Martial World 13-
3	KS: The Miltiary/Mercenary/Terrorist World 13-
3	KS: The Superhuman World 13-
3	KS: World War II era Superhumans & Costumed Agents 13-
0	Language:  English (idiomatic)
1	Language:  French (basic conversation)
2	Language:  German (fluent conversation)
1	Language:  Italian (basic conversation)
1	Language:  Japanese (basic conversation)
1	Language:  Russian (basic conversation)
3	Navigation 13-
2	PS: Soldier 14-
3	Paramedics 13-
3	Persuasion 14-
3	Security Systems 13-
3	Stealth 14-
3	Survival 13-
3	Systems Operation 13-
5	TF:  Common Motorized Ground Vehicles, Parachuting, Advanced, Parachuting, Basic, SCUBA, Two-Wheeled 
	Motorized Ground Vehicles
9	Tactics 16-
3	Teamwork 14-
2	WF:  Small Arms



Total Powers & Skill Cost:  373
Total Cost:  648

400+	Matching Complications


0	Distinctive Features:  Perfect Human Specimen Easily Concealed, Noticed and Recognizable, Detectable 
	By Commonly-Used Senses, Not Distinctive In Some Cultures
20	Hunted:  Captain America's Rogues Gallery 11- (As Pow; NCI; Harshly Punish)
20	Psychological Complication:  Dedicated American Patriot (Very Common; Strong)
20	Psychological Complication:  True Hero  (Common; Total)
5	Reputation:  American Sponsored Stooge, Infrequently
10	Social Complication:  Secret Identity Infrequently, Major
248	Experience Points
(2 points unspent)



Total Complications Points:  648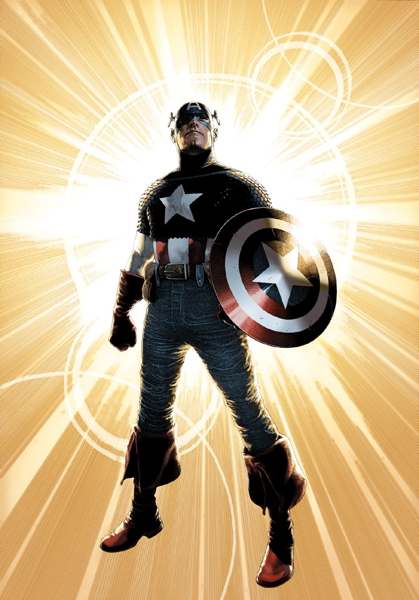 Background/History: The only hero who is a legacy of himself. Fought the good fight in WWII and then was frozen. Thawed out in the present and has eclipsed his own rep from WWII which is impressive in itself. Since he's been thawed he's been a nigh constant Avenger. He is the team's heart, soul, and icon. No one represents us better.
Personality/Motivation: Captain America is the steward and defender of the best ideals of man. He's goody-goody with out bugging you about it.
Quote:
"And now I'm calling all citizens from all over the world, this is Captain America calling (calling)!" - The Kinks
"Captain America, is that you? Flying down the highway in your red, white, and blue!" - Styx
Powers/Tactics: Cap is a skilled martial artist, acrobat, and military leader. He is considered one of, if not the greatest, Metaunit tactician (i.e. small teams of superhumans). He's an excellent motivator and skilled in creating a team that's greater than the sum of its parts.
Appearance: Classic Costume, Blue pants, blue chest and shoulders, white arms, red boots and gloves and the vertical striped red and white. Wings on his head. All this and he looks cool Dammit.
Captain America's Hero Designer File
---
Return to Comic-Derived Character Adaptations