THE JUSTICE LEAGUE
WONDER WOMAN



Val	CHA	Cost	Roll	Notes


110	STR	100	31-	Lift 104.9 ktons; 22d6 HTH Damage
31	DEX	63	15-	OCV:  10/DCV:  10
38	CON	56	17-
16	BODY	12	12-
23	INT	13	14-	PER Roll 17-
20	EGO	20	13-	ECV:  7
40	PRE	30	17-	PRE Attack:  8d6
30	COM	10	15-

18	PD	-4		Total:  28 PD (10 rPD)
18	ED	10		Total:  28 ED (10 rED)
7	SPD	29		Phases:  2, 4, 6, 7, 9, 11, 12
30	REC
80	END	2
95	STUN	5		

Total Characteristic Cost:  346

Movement:

	Running:	16"/128" 
		Flight:		30"/60"
		Leaping:	22"/44"
		Swimming:	8"/16"



Cost	Powers & Skills


1	

Martial Arts:

  

Pankration

; Use Art With Cestus
	

Maneuver	OCV	DCV	Damage


4	Bend Joint	-1	+1	2d6 NND
4	Break Bone	-2	+0	HKA 1d6 +1
4	Crush		+0	+0	26d6 Crush, Must Follow Grab
4	Escape		+0	+0	125 STR vs. Grabs
3	Grab		-1	-1	Grab Two Limbs, 120 STR for holding on
3	Kick/Punch	+1	+0	24d6 Strike
3	Legsweep	+2	-1	23d6 Strike, Target Falls
3	Sacrifice Throw	+2	+1	22d6 Strike; You Fall, Target Falls

25	

Enchanted Lasso:

  Elemental Control, 100-point powers; all slots OAF Unbreakable (-1)	
50	1)  Entangle 10d6, 10 DEF, Reduced Endurance (1/2 END; +1/4), Takes No Damage 
	From Attacks All Attacks (+1/2); OAF Unbreakable (-1), Cannot Form Barriers (-1/4), 
	Limited Range (10"; -1/4), END 7
29	2)  Mind Control 20d6 (Human and Alien classes of minds), Reduced Endurance 
	(0 END; +1/2); OAF Unbreakable (-1), Only to compel the Truth (-1/2), Only usable 
	against those entangled by Lasso (-1/2), Can Be Missile Deflected (-1/4), Does Not 
	Provide Mental Awareness (-1/4), Normal Range (-1/4), Limited Range (10"; -1/4)

13	

Bracelets:

  Missile Deflection (Any Ranged Attack), +5 OCV ; OAF Unbreakable (-1), 
	Will Not Work Against Heavy Missiles (-1/4)
90	

Gift of Flight:

  Flight 30", Reduced Endurance (0 END; +1/2) (90 Active Points)
30	

Fleet of Foot!:

  Running +10" (16" total), x8 Noncombat	3
6	

Strong Swimmer:

  Swimming +6" (8" total)	1

	

Durability


37	1)  

Deceptively Tough:

  Armor (10 PD/10 ED), Always allows 1 BODY through 
	Defenses (+0), Inherent (+1/4)
14	2)  

Immortal Amazon Physiology:

  LS  (Longevity: Immortal; Safe in High Pressure; Safe 
	in High Radiation; Safe in Intense Cold; Safe in Intense Heat; Safe in Low 
	Pressure/Vacuum)
6	3)  

Pain Tolerance:

  +10 Mental Defense (14 points total); Only To Resist Pain 
	Attacks (-2)  plus Power Defense (10 points); Only To Resist Pain Attacks (-2)
5	4)  

Really Deep Breath:

  LS  (Self-Contained Breathing); Stops Working If Character 
	Speaks, Is Stunned, Or Is Knocked Out (-1/2), Extra Time (Extra Segment, Only to 
	Activate, -1/4), Can Only Be Activated In Breathable Atmosphere (-1/4)
60	5)  

Supertough Body:

  Physical Damage Reduction, Resistant, 50% plus Energy Damage 
	Reduction, Resistant, 50% 
20	6)  

Supertough Form I:

  Lack Of Weakness (-10) for Normal Defense  plus Lack Of 
	Weakness (-10) for Resistant Defenses 
15	7)  

Supertough Form II:

  Power Defense (15 points)

	

Optional Equipment


44	1)  

Amazonian Armor:

  Armor (12 PD/12 ED), Hardened (x2; +1/2); OIF Durable (-1/2) 
	plus Life Support  (Self-Contained Breathing); IIF Durable (Armor; -1/4)
50	2)  

Amazonian Sword:

  HKA 3d6+1 (6 1/2d6 w/STR), +1 Increased STUN 
	Multiplier (+1/4), Reduced Endurance (1/2 END; +1/4), Armor Piercing (+1/2); 
	OAF Durable (-1), END 4
13	3)  

Razor Tiara:

  RKA 2d6; OAF (-1), Range Based On Strength (-1/4), END 3
22	Optional Equipment: Shield:  Multipower, 45-point reserve; all slots OAF Durable (-1)	
1u	1)  

Deflection: Incidental:

  +4 DCV; OAF Durable (-1), END 2
1u	2)  

Deflection: Hand To Hand:

  +5 OCV with Block; OAF Durable (-1), END 1
2u	3)  

Deflection: Ranged:

  Missile Deflection (Any Ranged Attack), +5 OCV, Adjacent 
	Hex (+1/2); OAF Durable (-1)
1u	4)  

Shield Bash:

  Hand-To-Hand Attack +5d6; OAF Durable (-1), Hand-To-Hand 
	Attack (-1/2), END 2

	

Senses


9	1)  

Acute Senses:

  +3 PER with all Sense Groups
20	2)  

Combat Hearing:

  Targeting Sense with Hearing Group
12	3)  

Eagle's Vision:

  +8 versus Range Modifier for Sight Group
12	4)  

Parabolic Hearing:

  +8 versus Range Modifier for Hearing Group

	

Perks


10	

Contribution to Watchtower


5	Fringe Benefit:  Diplomatic Immunity
10	Fringe Benefit:  Membership: Justice League America Senior Member
10	Fringe Benefit:  Princess
5	Money:  Well Off
15	Reputation:  Incredibly respected Heroine (A large group) 14-, +5/+5d6
50	Invisible Jet:  Transparent Transport
3	Well-Connected
23	1)  Contact:  Themyscira (Contact has very useful Skills or resources, Contact is slavishly 
	loyal to character), Organization Contact (x3) 12-

	

Talents


20	

Has A Way With The Animals:

  Animal Friendship
15	

Speaks To The Beasts:

  Beast Speech
15	

Greek Zen:

  Combat Sense 14-
8	

Quicker Than The Eye Can Follow:

  Lightning Reflexes: +5 DEX to act first with All 
	Actions
5	

Heals Quickly:

  Rapid Healing

	

Skills


40	+5 with All Combat
9	+3 with Axes, Swords, Spears, and Shields

2	AK: Olympus 11-
3	AK: Themyscira 14-
3	Acrobatics 15-
3	Breakfall 15-
3	Climbing 15-
3	Conversation 17-
3	High Society 17-
3	Hoist 14-
3	Interrogation 17-
3	Oratory 17-
2	PS: Writer 11-
3	Paramedics 14-
3	Persuasion 17-
3	Power:  Brick Tricks 14-
3	Shadowing 14-
3	Stealth 15-
8	Survival (Marine, Temperate/Subtropical, Tropical, Mountain) 14-
3	Tactics 14-
3	Teamwork 15-
3	Tracking 14-
7	Weapon Familiarity:  Common Melee Weapons, Common Missile Weapons, Chain & 
	Rope Weapons, Quarterstaff, Sling
3	Scholar
2	1)  KS: Legends And Lore 14-
2	2)  KS: Olympian Pantheon 14-
2	3)  KS: The Superhuman World 14-
2	4)  KS: Themysciran History & Customs 14-



Total Powers & Skill Cost:  940
Total Cost:  1286

550+	Disadvantages


5	Dependent NPC:  Cassie (Wondergirl) 8- (Slightly Less Powerful than the PC)
5	Distinctive Features:  Tall gorgeous woman.  (Easily Concealed; Noticed and 
	Recognizable; Detectable By Commonly-Used Senses)
15	Hunted:  Hippolytia (Mother, a bit over protective) 11- (As Pow, NCI, PC has a Public 
	ID or is otherwise very easy to find, Watching)
20	Hunted:  Wonder Woman's Rogues Gallery 11- (As Pow, PC has a Public ID or is 
	otherwise very easy to find, Harshly Punish)
25	Hunted: Ares:  8- (Occasionally), More Powerful, NCI, PC has a Public ID or is 
	otherwise very easy to find, Harshly Punish
20	Psychological Limitation:  Dedicated to Peace and Harmony  Common, Total
10	Psychological Limitation:  Militant Background and Bearing conflicts with Hippie Ideals 
	(Uncommon, Strong)
15	Psychological Limitation:  Takes her responsibility as a role model and icon seriously 
	(Common, Strong)
15	Public Identity: Princess Diana:  Frequently (11-), Major
20	Watched: Olympic Gods:  11- (Frequently), More Powerful, NCI, PC has a Public ID or 
	is otherwise very easy to find, Watching


586	Experience Points

Total Disadvantage Points:  1286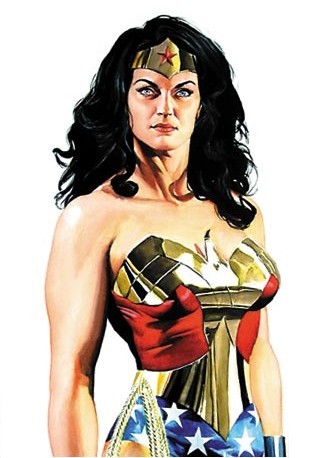 Background/History: Semi-Divine daughter of the Queen of the Themysciran Amazons. Diana won the right to represent her people to the world at large as an ambassador and protector of peace. She has since become one of the worlds most visible and most potent protectors.
According to DC's Secret Origins, Diana is no longer a Princess. I diverge from this.
Personality/Motivation: Seeks to protect and teach humanity the Amazon ways of peace and happiness. But is also a warrior at heart and won't back down from a fight. (occasionally starts them)
Quote: "Great Hera!"
Powers/Tactics: A powerful Brick with somewhat watered down defenses
Appearance: Tall, leggy brunette with muscles and stuff. Wears a great costume with symbols of American patriotism. Hot.
---
Return to Comic-Derived Character Adaptations