THE JUSTICE LEAGUE
BATMAN



Val	CHA	Cost	Roll	Notes


25	STR	15	14-	Lift 800 kg; 5d6 HTH Damage
26	DEX	48	14-	OCV:  9/DCV:  9
22	CON	24	13-
15	BODY	10	12-
30	INT	20	15-	PER Roll 15-
21	EGO	22	13-	ECV:  7
35	PRE	25	16-	PRE Attack:  7d6
18	COM	4	13-

12	PD	7		Total:  26 PD (14 rPD)
7	ED	3		Total:  21 ED (14 rED)
6	SPD	24		Phases:  2, 4, 6, 8, 10, 12
10	REC	2
50	END	3
50	STUN	11		

Total Characteristic Cost:  218

Movement:

	Running:	6"/12"
		Leaping:	5"/20"//10"/40"
		Swimming:	2"/4"
		Swinging:	15"/30"

Cost	Powers & 

Skills


9	

Martial Arts:

  

Unique Art Cobbled From Several Traditional Styles;

  Use Art With 
	Axes, Maces, Picks, Chain and Rope, Clubs, Garrote, Karate Weapons, Pole Arms, 
	Quarterstaff, Swords, Three-Section Staff, Unarmed Combat
	

Maneuver			OCV	DCV	Notes


4	Block				+2	+2	Block, Abort
4	Choke 				-2	+0	Grab One Limb; 4 1/2d6 NND
4	Disarm				-1	+1	Disarm; 60 STR to Disarm roll
4	Escape				+0	+0	65 STR vs. Grabs
5	Flying Side Kick		+1	+0	10d6 +v/5; FMove
3	Grappling Throw			+0	+2	12d6 Strike; Target Falls; Must Follow Grab
3	Joint Lock/Hold			-1	-1	Grab Two Limbs, 60 STR for holding on
4	Knife/Spear Hand		-2	+0	HKA 3d6
3	Legsweep			+2	-1	11d6 Strike, Target Falls
4	Nerve Strike			-1	+1	4 1/2d6 NND
4	Punch/Elbow Strike		+0	+2	12d6 Strike
5	Redirect			+1	+3	Block, Abort
5	Side or Spin Kick		-2	+1	14d6 Strike
4	Snap Kick/Leopard Strike	+2	+0	12d6 Strike
3	Tackle				+0	-1	10d6 +v/5 Strike; You Fall, Target Falls; FMove
5	Takeaway			+0	+0	Grab Weapon, 60 STR to take weapon away
3	Takedown			+1	+1	10d6 Strike; Target Falls
3	Throw				+0	+1	10d6 +v/5, Target Falls
20	+5 Damage Classes

30	

Utility Belt Basics:

  Multipower, 45-point reserve; all slots OIF (-1/2)
2u	1)  

Batrazors:

  RKA 1d6+1, 16 Recoverable Charges (+1/2), Autofire (5 shots; +1/2); 
	OAF (-1), Range Based On Strength (-1/4), [16 rc]
1u	2)  

Coded Radio Gear:

  Mind Link , Specific Group of Minds, No LOS Needed, Number 
	of Minds (x4); Only With Others Who Have Mind Link (-1), OIF (-1/2), Does Not 
	Provide Mental Awareness (-1/4)
1u	3)  

Smoke Pellets:

  Darkness to Sight Group 2" radius, 8 Recoverable Continuing Charges 
	lasting 1 Extra Phase each (+1/4); OAF (-1), Range Based On Strength (-1/4), [8 rc]
1m	4)  

Flexishield:

  Missile Deflection (Bullets & Shrapnel); OAF (-1)
1u	5)  

Mini-Spotlight:

  Change Environment 4" radius; OAF (-1), END 1
1u	6) 

 Rebreather:

  Life Support  (Self-Contained Breathing); OAF (-1), 1 Continuing Charge 
	lasting 1 Hour (-1/4), [1 cc]
1u	7)  

Swingline Gun & Winch:

  Leaping +15" (5"/20" forward, 2 1/2"/10" upward); 
	OAF (-1), Only To Go Up (-1/2), END 1
1m	8)  

Swingline:

  Swinging 15" (15 Active Points); OAF (-1), END 1

72	

Utility Belt Extras:

  VPP (Gadget Pool), 60 base + 12 control cost; 
	OAF (Belt; -1), VPP Can Only Be Changed Between Adventures (-1/2)	

	

Cowl Gear

, all slots OIF (-1/2)
3	1)  

Low Light Lenses:

  Nightvision; OIF (-1/2)
20	2)  

Protected Senses:

  Hearing Group Flash Defense (10 points), Sight Group, Radio Group; OIF (-1/2)
7	3)  

Psionic Shielding:

  +10 Mental Defense (19 points total); OIF (-1/2)
8	4)  

Radio Uplink:

  High Range Radio Perception (Radio Group); OIF (-1/2)
3	5)  

Thermal Vision Lenses:

  Infrared Perception (Sight Group); OIF (-1/2)

50	

Combat Genius:

  Find Weakness 15- with All Attacks
10	

Armored Costume:

  Armor (5 PD/5 ED); OIF (-1/2)
5	

Iron Will:

  Mental Defense (19 points total)

	

Perks


8	

Watchtower:

  Access (Hidden (-5 to Skill Rolls))
8	

Wayne Enterprises Building:

  Access (Hidden (-5 to Skill Rolls))
20	

Contribution to Watchtower:

  Base/Vehicle
	

Notes:

  Batman has his hooks in the JLA base of operations.
60	

The Batcave:

  Base of Operations
20	

The Homestead:

  Wayne Manor
15	

Alfred Pennyworth:

  Follower
1	

Criminal Thuggery: 

 False Identity
1	

Licensed to .... Drive:

  Fringe Benefit:  International Driver's License
1	

He Can Travel!:

  Fringe Benefit:  Passport
15	

Bruce's Billions: 

 Money:  Filthy Rich
15	Reputation:  The Greatest Detective on Earth (A large group) 14-, +5/+5d6
55	

The Bat Fleet of Vehicles:

  Customized vehicles of a combat nature.
	

Notes:

  This represents: a Batmobile, a Batplane, a Batboat, a Batsubmersible, and a 
	Batcopter. Alter to suit your Temperament
3	Well-Connected
6	1)  Where does he get such Marvelous Toys?:  Contact:  Engineer  (Contact has extremely 
	useful Skills or resources, Good relationship with Contact) 12-
	

Notes:

  This represents someone who helps Batman with his gear and/or vehicles. Keep 
	or discard at will.
5	2)  Contact:  Arkham Asylum  (Contact has useful Skills or resources), Organization 
	Contact (x3) 8-
4	3)  Contact:  Dr. Whatshername (Contact has useful Skills or resources) 13-
7	4)  Contact:  James Gordon, Commissioner GCPD (Contact has access to major 
	institutions, Contact has very useful Skills or resources) 14-

	

Talents


3	

Can Navigate Well:

  Bump Of Direction
18	

Rolls with the Punches:

  Combat Luck (9 PD/9 ED)
16	

Combat Genius:

  Combat Sense 16-
4	

Prepared For Anything:

  Environmental Movement (no penalties on Uneven, enclosed, 
	and chaotic surfaces)
6	

Trained Reflexes:

  Lightning Reflexes: +4 DEX to act first with All Actions
3	

Cat Napper:

  Lightsleep
5	

Iron Will:

  Resistance: 5 points
3	

Esoteric Knowledge:

  Simulate Death

	

Skills


30	+3 with Overall Level
24	+3 with All Combat
10	+2 with Ranged Combat

4	AK: Gotham City 16-
3	Acrobatics 14-
3	Acting 16-
5	Breakfall 15-
3	Bugging 15-
3	Bureaucratics 16-
3	Climbing 14-
3	Combat Driving 14-
3	Combat Piloting 14-
3	Computer Programming 15-
3	Concealment 15-
3	Conversation 16-
5	Cramming
5	Cramming
5	Cramming
5	Cramming
13	Criminology 20-
3	Cryptography 15-
13	Deduction 20-
10	Defense Maneuver I-IV 
3	Demolitions 15-
3	Disguise 15-
3	Electronics 15-
3	Fast Draw 14-
3	Forensic Medicine 15-
8	Forgery (Art Objects, Commercial Goods, Documents, Money (Counterfeiting)) 15-
3	High Society 16-
3	Interrogation 16-
5	Inventor 16-
3	Lockpicking 14-
3	Mechanics 15-
3	Mimicry 15-
4	Navigation (Air, Land, Marine) 15-
3	Persuasion 16-
5	Riding 15-
3	Seduction 16-
3	Shadowing 15-
3	Sleight of Hand 14-
3	Stealth 14-
3	Streetwise 16-
16	Survival (Arctic/Subarctic, Marine, Temperate/Subtropical, Tropical, Desert, Mountain, 
	Underground, Urban) 15-
3	Systems Operation 15-
7	Tactics 17-
3	Teamwork 14-
5	Tracking 16-
31	TF:  Common Motorized Ground Vehicles, Agricultural & Construction Vehicles, 
	Balloons & Zeppelins, Bobsleds, Combat Aircraft, Equines, Hanggliding, Helicopters, 
	Jetskis, Large Motorized Boats, Large Planes, Large Rowed Boats, Large Wind-Powered 
	Boats, Parachuting, Advanced, Parachuting, Basic, Rafts, Railed Vehicles, SCUBA, 
	Skating (ice-skating or roller-skating), Skiing (snow), Skiing (water), Sleds, Small 
	Motorized Boats, Small Planes, Small Rowed Boats, Small Wind-Powered Boats, 
	Snowmobiles, Submarines, Tracked Military Vehicles, Two-Wheeled Motorized Ground 
	Vehicles, Two-Wheeled Muscle-Powered Ground Vehicles, Wheeled Military Vehicles, 
	Windsurfing
11	WF:  Common Martial Arts Melee Weapons, Common Melee Weapons, Common 
	Missile Weapons, Small Arms, Off Hand, Staffs, Three-Section Staff
8	Weaponsmith: muscle powered, slug throwers and Energy (Other) 18-
3	Linguist
3	1)  Language:  French (Idiomatic, native accent; Literacy)
4	2)  Language:  Japanese (Completely Fluent, w/Accent; Literacy)
5	3)  Language:  Spanish (Idiomatic, native accent; Literacy)
3	Scholar
2	1)  KS: Gotham Underworld 15-
2	2)  KS: Helpful Trivia 15-
2	3)  KS: Martial Arts Styles (General) 15-
2	4)  KS: Supercriminals 15-
2	5)  KS: The Martial World 15-
2	6)  KS: The Military/Mercenary/Terrorist World 15-
2	7)  KS: The Superhuman World 15-
3	Scientist
2	1)  SS:  Aeronautics 15-
2	2)  SS:  Ballistics 15- 
2	3)  SS:  Biology 15- 
2	4)  SS:  Chemistry 15- 
2	5)  SS:  Genetics 15- 
2	6)  SS:  Mathematics 15-
2	7)  SS:  Physics 15- 



Total Powers & Skill Cost:  983
Total Cost:  1201

550+	Disadvantages


20	Hunted:  Batman's Rogues Gallery 11- (Frequently) (As Pow, NCI, Harshly Punish)
15	Hunted:  Criminal Underworld 11- (Frequently), Less Powerful, NCI, Harshly Punish
10	Hunted:  Rep Seeking Badguy of the Month 8- (Occasionally), As Powerful, Harshly 
	Punish
10	Physical Limitation:  Flash backs: when in crime alley Infrequently, Greatly Impairing
	

Notes:

  This may have been retconned away.
25	Psychological Limitation:  Devoted to Justice Very Common, Total
20	Psychological Limitation:  Code vs Killing Common, Total
10	Psychological Limitation:  Protective of his "Family" (The so called "Bat-Family ") 
	(Uncommon, Strong)
15	Reputation:  Feared Vigilante/Untrustworthy compatriot...?, Almost Always (14-)
10	Rivalry:  Professional (Any other costumed crimefighter in Gotham; Rival is As 
	Powerful; Seek to Outdo, Embarrass, or Humiliate Rival; Rival Aware of Rivalry; 	
	Multiple Rivals)
15	Social Limitation:  Secret Identity: Bruce Wayne Frequently (11-), Major
521	

Experience Points

Total Disadvantage Points:  1201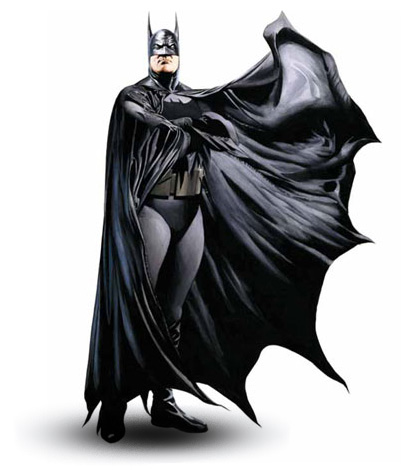 Background/History: blah blah parents killed, blah blah trained to perfection blah blah criminals are a superstitious, cowardly, lot blah blah, hangs around with young boys in short pants.
Personality/Motivation: To ensure that what happened to him never happens to another child
Quote: "I'm Batman"
Powers/Tactics: Peerless mind, top flight martial artist, peak conditioning. More toys than the Sharper Image.
Appearance: Wears black. Or gray and black. Or gray and blue. You can basically judge how crazy/controlling/badass/sissypantsniceguy he is by the size of his cowl's "Ears" The longer and pointier the ear, the crazier and baddassier the Batman. His belt is bright yellow or not.
---
Return to Comic-Derived Character Adaptations