THE JUSTICE LEAGUE
AQUAMAN



Val	CHA	Cost	Roll	Notes


50	STR	40	19-	Lift 25.6 tons; 10d6 HTH Damage
26	DEX	48	14-	OCV:  9/DCV:  9
35	CON	50	16-
25	BODY	30	14-
20	INT	10	13-	PER Roll 13-
25	EGO	30	14-	ECV:  8
35	PRE	25	16-	PRE Attack:  7d6
16	COM	3	12-

25	PD	15		Total:  25 PD (12 rPD)
25	ED	18		Total:  25 ED (12 rED)
6	SPD	24		Phases:  2, 4, 6, 8, 10, 12
17	REC	0
70	END	0
70	STUN	2		

Total Characteristic Cost:  295

Movement:

	Running:	6"/12"
		Leaping:	10"/20"
		Swimming:	25"/200"



Cost	Powers & Skills


30	

Aquatic Communication:

  Elemental Control, 60-point powers
28	1)  

Detect Marine Life:

  Mind Scan 12d6 (Animal class of minds), +6 ECV; 
	Only Versus Marine Life (-1/2), END 7
60	2)  

Let Me See If Any Of My Friends Know Anything.:

  Telepathy 12d6 (Animal class of 
	minds), Area Of Effect (12" Any Area; +1 1/4); Only Versus Marine Life (-1/2), 
	Communication Only (-1/4), END 13
81	3)  

Summon The Sea Creatures:

  Summon 16 250-point Marine Animals, Friendly (+1/4), 
	Reduced Endurance (0 END; +1/2), Invisible Power Effects (Fully Invisible; +1); Arrives 
	Under Own Power (-1/2), Summoned Being Must Inhabit Locale (-1/2)
70	4)  

(Optional Ability) Control:

  Mind Control 4d6 (Human, Animal and Alien classes of 
	minds), Telepathic (+1/4), Reduced Endurance (1/2 END; +1/4), Area Of Effect 
	(6" Radius; +1), END 4
	

Notes:

  This ability is rarely used but is listed on his DC Heroes 3rd Edition Character 
	Sheet. I am including it for completeness sake.
30	5)  

(Optional Ability) Empathy:

  Telepathy 6d6 (Animal, Human and Alien classes of 
	minds), Reduced Endurance (0 END; +1/2); Empathy/All Emotions (-1/2)
30	6)  

(Optional Ability) True Telepathy:

  Telepathy 4d6 (Animal, Human and Alien classes 
	of minds), Reduced Endurance (0 END; +1/2)

2	

Martial Arts:

  

Master of the Seas Style;

  Use Art with Nets, Polearms and Spears
	

Maneuver		OCV	DCV	Notes


5	All Out Strike		-2	+1	17d6 Strike
4	Defensive Strike	+0	+2	15d6 Strike
4	Disarm			-1	+1	Disarm; 75 STR to Disarm
4	Dodge			--	+5	Dodge, Affects All Attacks, Abort
4	Dolphin Charge		+0	-2	15d6 +v/5 Strike, FMove
4	Escape			+0	+0	80 STR vs. Grabs
5	Evasive Action		--	+4	Dodge All Attacks, Abort; FMove
4	Fierce Strike		+2	+0	15d6 Strike
5	Gotcha!			-2	-1	Grab Two Limbs, 75 STR for holding on; FMove
3	Octopus Hold		-1	-1	Grab Two Limbs, 75 STR for holding on
4	Repel			+2	+2	Block, Abort
4	Weapon Bind		+1	+0	Bind, 75 STR
12	+3 HTH Damage Class(es)

60	

Takes More Than What You Got To Keep Me Down:

  Physical Damage Reduction, 
	Resistant, 50% 

plus

 Energy Damage Reduction, Resistant, 50%
12	

That Didn't Really Hurt:

  Damage Resistance (12 PD/12 ED)
22	

Aquatic Humanoid:

  Life Support  (Breath Water; Immunity: All terrestrial diseases and 
	biowarfare agents; Longevity: 400 Years; Safe in High Pressure; Safe in Intense Cold; Safe 
	in Low Pressure/Vacuum)
41	

Peerless Swimmer:

  Swimming +23" (25" total) (x8 Noncombat), Reduced Endurance 
	(1/2 END; +1/4), END 1
5	

Low Light Vision:

  Ultraviolet Perception (Sight Group)
23	

Passive Sonar:

  Ultrasonic Perception (Hearing Group)  

plus

 Targeting Sense with Hearing Group
5	

Thermal Vision:

  Infrared Perception (Sight Group)
5	

Underwater Eyes:

  Nightvision
32	

Water Currents Sense:

  Detect A Class Of Things 13- (Unusual Group), Discriminatory, 
	Increased Arc of Perception, Range, Sense, Targeting Sense

	

Optional Items


20	1)  

Armored Costume?:

  Armor (10 PD/10 ED); OIF (-1/2)
28	2)  

Trident:

  HKA 2d6 (4d6 with STR), Range Based On STR (+1/4), Reduced Endurance 
	(0 END; +1/2); OAF (-1) 

plus

 Stretching 1", Reduced Endurance (0 END; +1/2); 
	OAF (-1), Only To Cause Damage (-1/2), Always Direct (-1/4), No Velocity 
	Damage (-1/4), No Noncombat Stretching (-1/4)
	

Notes:

  Body 5, Def 4, Length L

	

Perks


30	

The AquaCave:

  Base: Undersea Cave/Safehouse
10	

The Watchtower:

  Contribution to the Watchtower
10	

One Of The Magnificent Seven:

  Fringe Benefit (Membership):  The Justice League of 
	America (Senior Member)
10	

(Optional) King of Atlantis:

  Fringe Benefit:  Head of State
	

Notes:

  This Perk is off and on and currently off.
5	Money:  Well Off
15	Reputation:  Justice Leaguer (A large group) 14-, +5/+5d6
3	Well-Connected
20	1)  Contact :  Justice League (Contact has extremely useful Skills or resources), 
	Organization Contact (x3) 13-
26	2)  Contact:  Allies in Atlantis (Contact has very useful Skills or resources, Good 
	relationship with Contact), Organization Contact (x3) 15-
6	3)  Contact:  Tempest (of the New Titans) (Contact has useful Skills or resources, Very 
	Good relationship with Contact) 13-

	

Talents


3	

Navigator Supreme:

  Bump Of Direction
4	

Undersea Combatant:

  Environmental Movement (no penalties fighting underwater)
6	

Extremely Quick:

  Lightning Reflexes: +4 DEX to act first with All Actions
9	

Undersea Combatant:

  Lightning Reflexes: +12 DEX to act first with All Actions; Only 
	Underwater (-1)

	

Skills


16	+2 with All Combat
20	+4 with Underwater Combat

16	Animal Handler (Aquatic Animals) 23-
3	Bureaucratics 16-
3	Combat Driving 14-
3	Combat Piloting 14-
3	Demolitions 13-
3	High Society 16-
10	Navigation (Marine) 17-
3	Riding 14-
14	Transport Familiarity:  Air Vehicles, Jetskis, Large Military Ships, Large Motorized 
	Boats, Large Rowed Boats, Large Wind-Powered Boats, Rafts, Skiing (water), Small 
	Military Ships, Small Motorized Boats, Small Rowed Boats, Small Wind-Powered Boats, 
	Submarines, Surfing, Swimming Beasts, Windsurfing
3	Scholar
2	1)  KS: Flora And Fauna (Undersea) (3 Active Points) 13-
2	2)  KS: Legends And Lore (Atlantis) (3 Active Points) 13-
2	3)  KS: The Superhuman World (3 Active Points) 13-
6	Survival (Marine, Tropical, Underground) 13-
3	Systems Operation 13-
3	Traveler
2	1)  AK: Atlantis (3 Active Points) 13-
2	2)  AK: The Atlantic Ocean (3 Active Points) 13-
2	3)  AK: The Seven Seas (3 Active Points) 13-
2	4)  CK: Atlantis (3 Active Points) 13-
2	5)  CuK: Atlantis (3 Active Points) 13-



Total Powers & Skill Cost:  928
Total Cost:  1223

550+	Disadvantages


5	DNPC:  Marra (Ex-Wife) 8- (Infrequently), Slightly Less Powerful than the PC
20	Enraged:  When Those under his protection threatened or harmed Uncommon, go 11-, 
	recover 8-
20	Hunted :  Black Manta 8- (Occasionally) (As Pow, NCI, PC has a Public ID or is 
	otherwise very easy to find, Harshly Punish)
10	Hunted:  Atlantis 8- (Mo Pow, NCI, Watching)
20	Hunted:  Rogues Gallery 11- (As Pow, PC has a Public ID or is otherwise very easy to 
	find, Harshly Punish)
20	Hunted:  Sea Lord 8- (Occasionally), As Powerful, NCI, PC has a Public ID or is 
	otherwise very easy to find, Harshly Punish
15	Hunted:  United Nations 11- (Frequently) (Mo Pow, NCI, Watching)
10	Physical Limitation:  Requires immersion in water frequently or suffers weakness 
	(-5 STR (and associated Figured Stats) per week he stays out of water) (Infrequently, 
	Greatly Impairing)
20	Psychological Limitation:  Stubborn and Serious (Very Common, Strong)
20	Psychological Limitation:  True Blue Hero (Common, Total)
15	Psychological Limitation:  True To His Atlantean Home Uncommon, Total
15	Public Identity:  Arthur Curry:  Frequently (11-), Major
10	Reputation:  Former King of Atlantis, Frequently (11-)
10	Susceptibility:  Loss of contact with water: , 1d6 damage Instant Common
20	Vulnerability:  2 x STUN from Heat Attacks (Common)
20	Vulnerability:  2 x BODY from Heat Attacks (Common)



Total Disadvantage Points:  1223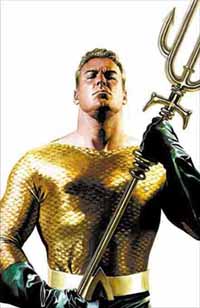 Background/History:
Born of Atlantian woman and mad Demi-God? Raised by Dolphins and then a lighthouse keeper?
I refuse to use either the "Handless Wonder" or the "Watery Fisted" versions. So this is a slightly tougher Aquaman with a few "Optional abilities" to cover the game supplements I have. Whatever happens with the Crisis Undeux, I will be using this version of Aquaman.
Personality/Motivation:
He's a good guy, like Superman. He's a bit more stubborn and cranky than Clark though. Perhaps its the fact that while Clark lost his world Arthur was booted from his. He's a demon underwater, with exceptional reflexes and almost unheard of speed. Outside the water? Underestimate him at your peril. Even when dried out for weeks he is a beast and a half.
Quote:
Zauriel: "Well, if it's experience you're looking for, I'm afraid I've only been doing this since the dawn of time." Aquaman: "Not a problem. Never let it be said that the League doesn't respect the new guys."
Powers/Tactics:
Aquaman is probably the closest to a traditional brick on the team, unless he's in his element or where he can contact the sealife nearby, he's gonna run up and hit you. Duck.
Campaign Use:
Aquaman should be someone who is respected by the heroic community. He's hung with the biggest and baddest since his early career and he's got no where near their power. (It's gotta be the shoes... er fins)
Appearance:
Above average height. Bronzed blonde god with more muscles than Hulk Hogan. Wears an orange scaled shirt and green tights with fins. His gloves are green and he wears no mask. Often disguises himself by not scowling.
---
Return to Comic-Derived Character Adaptations