ASSORTED CHARACTER ADAPTATIONS
ANNIE OAKLEY
(Phoebe Orlando Ann Mosey)



Val	CHA	Cost	Roll	Notes


10	STR	0	11-	Lift 100 kg; 2d6 HTH Damage [2]
13	DEX	9	12-	OCV:  4/DCV:  4
15	CON	10	12-
12	BODY	4	11-
8	INT	-2	11-	PER Roll 13-
10	EGO	0	11-	ECV:  3
10	PRE	0	11-	PRE Attack:  2d6
12	COM	1	11-

5	PD	3		Total:  5 PD (0 rPD)
5	ED	2		Total:  5 ED (0 rED)
4	SPD	17		Phases:  3, 6, 9, 12
5	REC	0
30	END	0
25	STUN	0		

Total Characteristic Cost:  44





Movement:

	Running:	6"/12"
		Leaping:	2"/4"
		Swimming:	2"/4"




Cost	Powers & Skills


	

Martial Arts:

  

Marksmanship


	

Maneuver	OCV	DCV	Notes


4	Basic Shot	+0	+0	Strike, +2 DC
5	Distance Shot	+0	-2	Strike  , +1 Segment
4	Quick Shot	+1	+0	Strike, +2 DC
2	Weapon Element:  Handguns, Rifles

2	

.22 Revolver:

  RKA 1d6-1; OAF (gun; -1), STR Minimum 5 (STR Min. Cannot Add/Subtract Damage; -¾), 
	2 clips of 8 Charges (Increased Reloading Time: 2 Full Phases; -½), Beam (-¼), No Knockback (-¼), 
	Real Weapon (-¼), -1 Decreased STUN Multiplier (-¼), [8]
2	

.22 Repeater Rifle:

  RKA 1d6-1; OAF (gun; -1), STR Minimum 6 (STR Min. Cannot Add/Subtract Damage; -1), 
	Required Hands Two-Handed (-½), -1 Decreased STUN Multiplier (-¼), Beam (-¼), 2 clips of 12 Charges 
	(Increased Reloading Time: 2 Full Phases; -¼), No Knockback (-¼), Real Weapon (-¼), [12]
6	+2 PER with all Sense Groups

	

Perks


1	Fringe Benefit:  Passport
9	

The Little Sure Shot of the Wild West:

  Reputation:  Great Shot (A large group) 14-, +3/+3d6

	

Talents


2	Lightning Reflexes: +2 DEX to act first with Rifle

	

Skills


5	+1 with Ranged Combat
15	+5 with Pistols and Rifles
	 
3	Acting 11-
3	Gambling 11-
5	Rapid Attack (Ranged) 
5	Riding 13-
3	Trading 11-
2	WF:  Clubs, Handguns, Rifles



Total Powers & Skill Cost:  78
Total Cost:  122

75+	Disadvantages


10	Distinctive Features:  Petite (Concealable; Noticed and Recognizable; Detectable By Commonly-Used 
	Senses)
0	Normal Characteristic Maxima
5	Physical Limitation:  Petite (Infrequently; Slightly Impairing)
10	Psychological Limitation:  Adventurous and Funloving (Common; Moderate)
15	Psychological Limitation:  Cannot Turn Down A Challenge (Common; Strong)
0	Rivalry:  Professional, Lillian Smith, Rival is Less Powerful, Seek to Outdo Rival, Rival Aware 
	of Rivalry
5	Social Limitation:  Limited Education (Occasionally; Minor)
2	Experience Points



Total Disadvantage Points:  85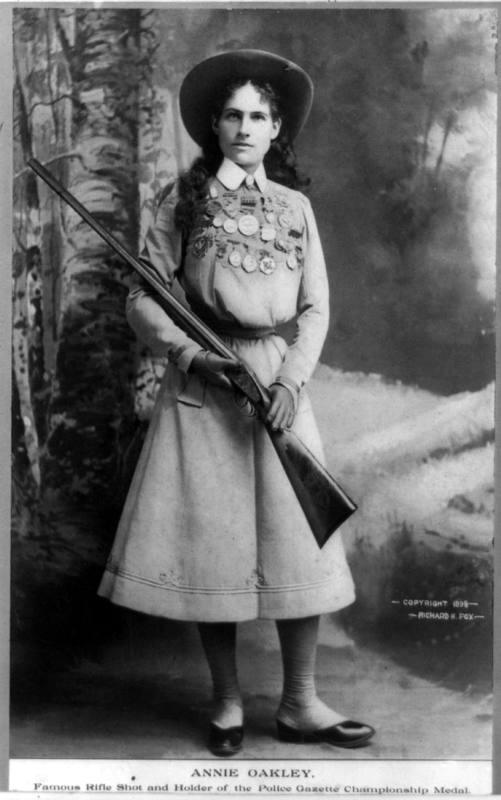 Background: An American sharpshooter and exhibition shooter. Oakley's amazing talent and timely rise to fame led to a starring role in Buffalo Bill's Wild West show, which propelled her to become the first American female superstar. She left the Buffalo Bill show and in 1902 began a quieter acting career in a stage play written especially for her, The Western Girl. Oakley played the role of Nancy Berry and used a pistol, rifle and rope to outsmart a group of outlaws.
Personality: Because of poverty following the death of her father, Annie did not regularly attend school. Later she received some additional education. During her first Buffalo Bill's show engagement, Oakley experienced a tense professional rivalry with rifle sharpshooter Lillian Smith. Being eleven years younger, Smith promoted herself as younger and therefore more billable than Oakley.
Oakley had such good aim that, at his request, she knocked the ashes off a cigarette held by the newly crowned German Kaiser Wilhelm II. Oakley promoted the service of women in combat operations for the United States armed forces.
Quote: "I would like to see every woman know how to handle [firearms] as naturally as they know how to handle babies."
Powers/Tactics: Using a .22 caliber rifle at 90 feet, Oakley reputedly could split a playing card edge-on and put five or six more holes in it before it touched the ground.
Annie Oakley's Hero Designer File
(Character sheet by Jon Burleson.)
---
Return to Assorted Character Adaptations